Finally the weather is warming up!
But we still have tons of snow on the ground — several feet! And mud and water running everywhere. Will's been working on the rock wall behind the living room stove every day, knowing nice weather's just around the corner. So far, he's used 14 bags of mortar mix, and lots of rocks. I think it looks great. Imagine how much warmth those rocks and the concrete will hold next winter.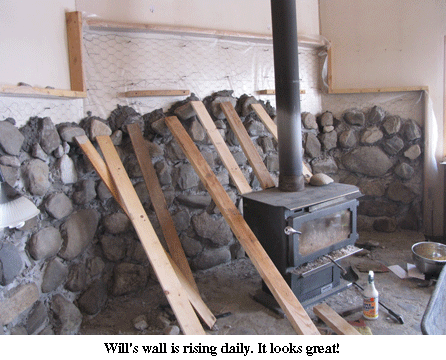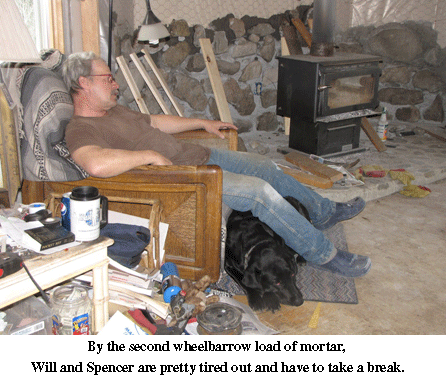 Meanwhile, I've been transplanting tomatoes and peppers like mad. I do them in Styrofoam cups. So far I've gotten three or four years' worth of use out of the same cups.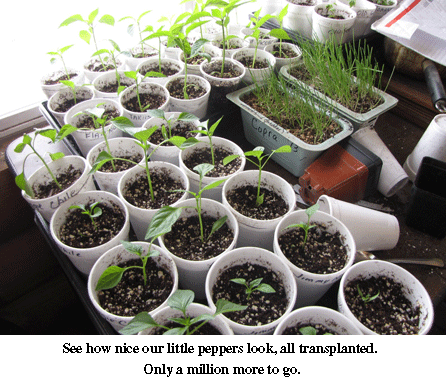 But it's been challenging because my left knee's been giving me a lot of pain these last few weeks. I finally wimped out and got an X-ray and saw the orthopedic specialists in the nearby town of Virginia. Good news is that my knee won't ever have to be replaced; it's in great shape. Bad news is that I may have a torn ligament. Had an MRI this morning so we'll see. Hopefully, it's just inflamed and will go ahead and heal. I've got LOTS to do this spring and hate gimping around on it. It sure tires one out! If it is a torn ligament, the doctor said it's a quick, easy fix and will heal fast. Considering the active lifestyle I've lived all my life, I guess I can expect a glitch here and there. I'm sure not complaining. — Jackie