While I'm taking it easy, Will's working hard
Okay I'm a bum, but, hey, I had knee surgery on Thursday. I overdid it on Friday, moving tomatoes and peppers out onto our enclosed porch. So Friday was a pain (literally!). And I did follow Doctor's orders; he gave me no restrictions, just do what my knee would let me. I had two tears in my meniscus, so I guess the repair took a bit more than we talked about prior to the surgery. Luckily we castrated baby pigs and disbudded the goats before the surgery! At any rate, I'm real lucky to have a homesteader husband who took over all the chores with no grousing. So he's been extra busy! Today, my knee feels some better so I have hopes that in a few days I can get back at it again. I don't do "sitting around" real well!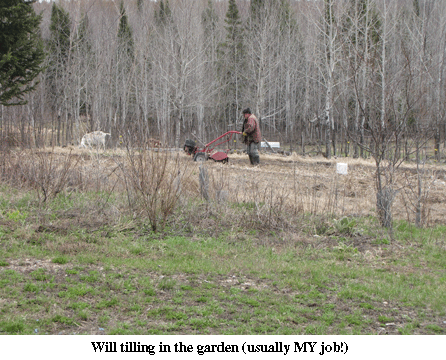 All of a sudden, everything is turning green. Our garlic and chives are up and pretty. Even the yard looks green again. Our flower bulbs are popping up and some are even blooming. Boy, does that cheer us up after all that snow.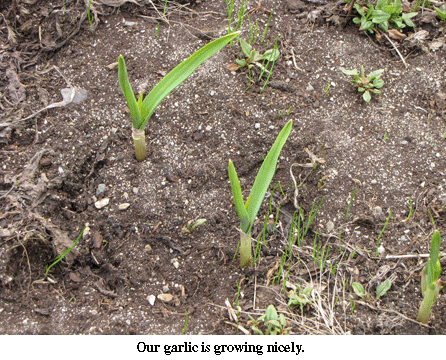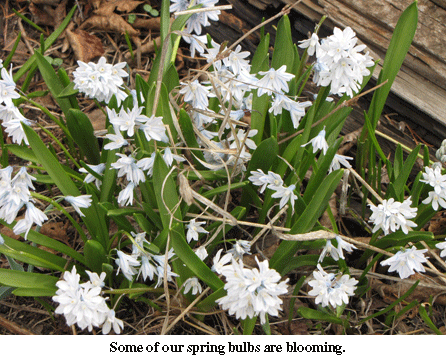 We're starting to get trees and shrubs that we ordered this spring: Evans Bali pie cherries, Crimson Jewel bush cherries, Hansen bush cherries, two plums, and a pear to start off with. Our orchard looks great and the trees are swelling with buds. I can hardly wait for blooms. But last night it was 22 degrees so I hope they wait awhile so we get fruit this year! — Jackie