Our August seminar is full (even a bit overfull)
Sorry to tell folks who have been putting off signing up for our August homesteading seminar, but we've filled up — even gone a little over our limit to accommodate some folks who live far away and wanted to attend. If you aren't in this year, please consider coming to one of our seminars next year. We are planning on hosting two, one in May and another in August again with a one-day seminar in September. I'll post the details for the spring one this winter so you'll have plenty of time to make plans and sign up.
I just got back from the Midwest Self Reliance Festival in Des Moines, Iowa, yesterday. It was a new show and not advertised well BUT boy did we have a great turnout of very interested people! I gave the Friday Keynote address on "self-reliant living … no matter where you live," which was well received. Of course I did a question and answer session at the end of the first hour, which lasted for another hour. Good questions, all.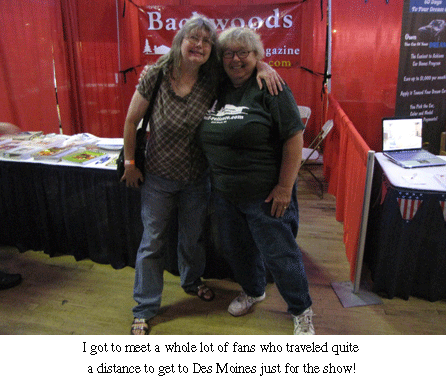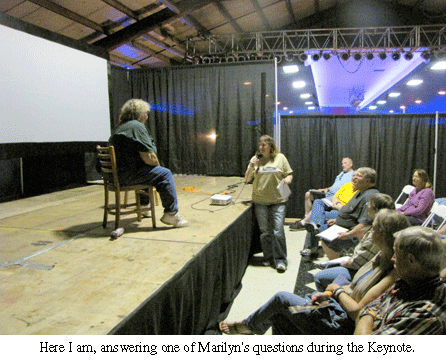 Back at the Backwoods Home booth, I sold books and magazines, signed books and visited with a whole lot of fans and people new to our "family." That was great fun and I enjoyed it a whole lot. Robert, the nice man who originated the idea of the show, introduced me to his wife who volunteered to help in the booth both while I spoke and several times during the show. She even ran the booth after I had to fly back home! Thanks so very much!
All in all, my recovering knee held up well. The first day it did get sore after being on my feet a lot. (I did chicken out and sit during my two workshops!) So I sat in the hotel's whirlpool for 2½ hours. Boy, did that soak the sore out of it quickly! And today, three days later, it's still feeling pretty darned good. Thank you God!
So now it's back to the homestead stuff and playing plenty of catch-up. Will and Christian stayed home and manned the place, getting a lot done while I was gone. They even cleaned out the fridge! (I think life was evolving in there.) I love you! — Jackie