Who said northern Minnesota was cold?
We've been having unreal temperatures lately; from 88 to 95 degrees with high humidity. Puff, puff, sweat dripping, pant, pant. It's hard to get things done! I went out yesterday and thinned a row of carrots, which is hard for me to do. I just feel awful throwing away baby plants. (Yeah, once I tried to transplant them, but that didn't work. Corn, yes. Carrots, no.) Then, while Will mulched the cabbages and broccoli, I weeded a row of squash and one of the rows of glads I planted. I got two bags of 50 bulbs on a killer sale this spring and the bulbs are HUGE — I couldn't resist them. After all, vegetables feed our bodies and flowers feed our souls.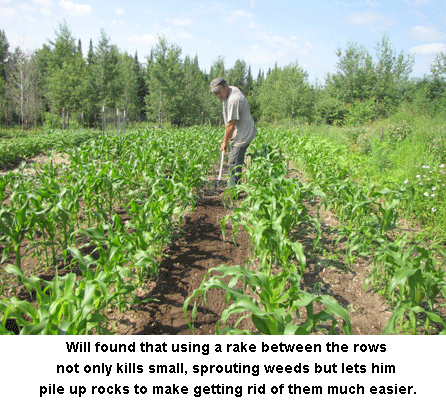 Will's been weeding and mulching, followed up and down in the rows by our faithful cat, Mittens. She protects Will from bugs and grasshoppers. Thank goodness neither pest has been bad. A week ago, potato bugs started appearing along with our first batch ever of gray blister beetles, both of which started eating our tomatoes and potato vines. But by careful examination and picking, they are getting fewer and fewer.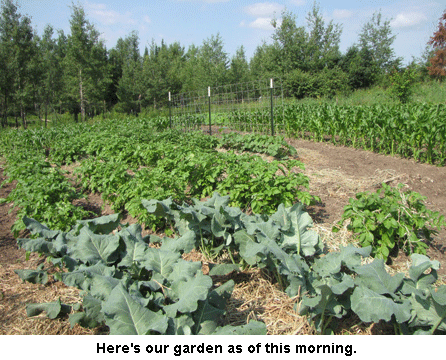 The garden looks fantastic and the corn is nearly waist high. The tomatoes are way past that and are beginning to set fruit. Awesome! Melons in the hoop houses are also starting to set fruit, as are the peppers. (Will promised not to fertilize them this year! As you remember, he gave them a double dose last year and we had trees for plants but very few peppers.)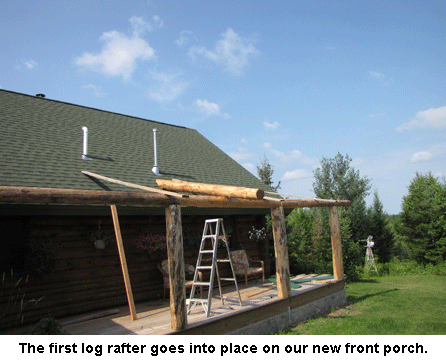 In his "spare" time, Will is starting to put the log rafters in place on our new front porch. He made a jig so he'll be able to cut all of the rafters at the correct angle which eliminates much re-sawing and guess work. Those rafters are heavy and he only wants to put them into place once! — Jackie