It's been kind of dry so Will built some easy sprinklers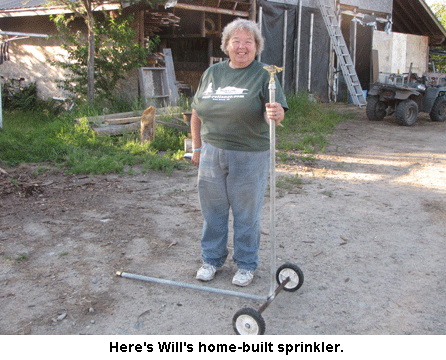 We've been using the tripod sprinklers for most of our watering around here for several years. Unfortunately, they're not so well built and they only last about 3 years or less. Plastic photo-degrades, light aluminum cracks and breaks. We found ourselves needing three new sprinklers and at $29.99 on sale, that was a big ouch!
Luckily, Will has an inventor's imagination and a pile of scrap metal and pipe. He had three lengths of pipe that were just the right length and a pipe bender given to him by a friend. So he designed a simple stand for a screw-on impact sprinkler. By adding a few fittings and cheap sprinklers from an ag-supply catalog, he soon had a portable, easily-moved sprinkler stand. You can even switch fittings and sprinkler heads around to raise or lower the height! Best of all, he added two little wheels from a junk lawnmower from the dump so we can just tip it up and pull it around into a new position without carrying it!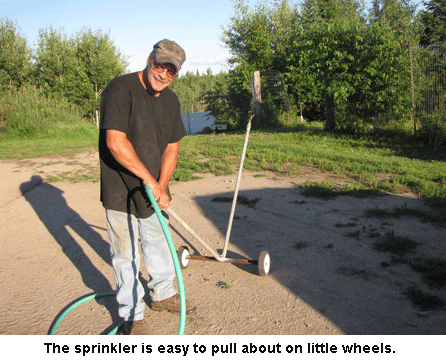 Pretty neat, Will!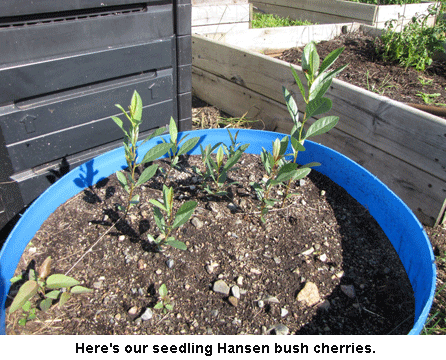 Last fall, he filled half a 55-gallon barrel with compost and planted seeds from some of our Hansen bush cherries. And this spring, they popped up. Now they're about 6 inches tall and looking great. We'll be transplanting them to their new location in a few weeks. The larger plants he put in on the edge of our newly-cleared pasture are doing great and these will make that planting even larger. We will have "wild" Hansen bush cherries! — Jackie