Monday, December 30th, 2013
One thing about cold weather is that you get caught up on a lot of stuff in the house (not that our house could use some cleaning and straightening up). And in between times, I've been making extra bread, rolls, and other baked goods. It seems that when it gets cold our primal instincts force us to make lots of food! Or it's just a good excuse…
I picked up a couple of on-sale 5-pound bags of flour before Christmas and opened one to make some bread. Did you know that nearly all commercial flour now contains malted barley flour? I've become a label reader because it seems like every company is getting sneaky about what they put into our food. The first bag I noticed was Gold Medal unbleached. Then it was the whole wheat. Even Dakota Maid was guilty! Talk about depressing. I guess it's because barley is cheaper than wheat.
Then there's the seed catalogs. Did any of you notice the price of seeds and plants in a lot of catalogs this year? The worst were Burpee and Henry Field, who offered a seedless grape vine for an "on sale" price of $97.99. One Vine! Wow, I guess I won't be buying! Luckily, many others like Baker Creek, Pinetree, and Fedco are still fair on their pricing.
With it being so cold, Spencer doesn't go out and help with chores and Hondo jumps up on the hay bales in between pens to keep his bum and paws warm. Smart dogs!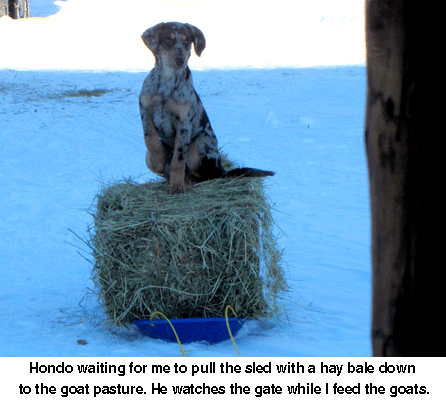 Will and I also want to wish each and every one of you Happy New Year!– Jackie