Thursday, February 27th, 2014
Hey, we talk about preparedness day and night it seems, but how prepared ARE we? Water is always one of the biggest deals. Luckily, we feel we have it about covered. After all, even with frozen water lines, we still have more than 500 gallons of potable water in our basement storage tanks (which we are using VERY little of) and more than four feet of snow to melt outside.
We're melting snow to flush the toilet and wash up with. This morning I washed my hair with some of it, heated on the wood stove to conserve propane, and Will's coffee was brewed with some water I brought from the Idington spring yesterday, on the way home from town. The animals' water is mostly melted snow. I'm only going to wash clothes once a week in our water-conserving wringer washer and that water will be mostly melted snow. By the time the snow's pretty much gone, we'll be able to get water from our spring as it won't be wading through four feet of drifted snow to get at.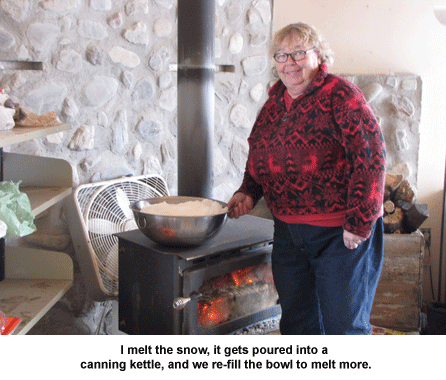 We feel fortunate to have plenty of firewood, food, and critter food on hand. If we get another couple of big snowstorms we may have to run the snowmobile out to the road. Knowing this is a possibility, we're really stocking up on critter grub, especially. We have our bounteous pantry for ourselves, of course. A lot of folks we know have already gone through their entire winters' worth of firewood and have had to buy more. But the firewood they bought is pretty green and really doesn't burn well or economically. Green wood takes a lot of heat to drive off the steam in it from the sap and that burning eats up a lot of wood. And with propane getting scarcer and selling at $5 a gallon, I don't know what folks will do. Luckily, we stock 2 years' worth of firewood in the shed. But we've started dipping into our second year's firewood already. We feel fortunate that it's split and very dry, AND under cover…not out in the snowbank somewhere!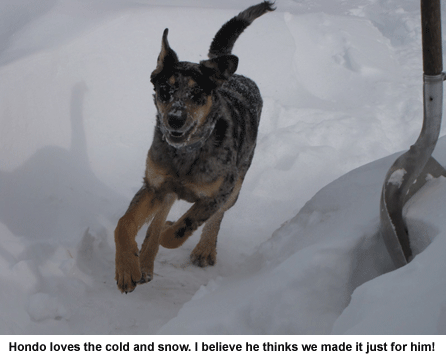 We're plotting out what we're going to grow to harvest for seed to sell in our mini-seed business next year. It's fun but challenging as some crops such as corn and squash require extreme distancing to avoid cross pollination between varieties. We've got it about figured out and should be offering about 20 or more different tomato seeds plus many seeds from our old-faithful garden crops. (We still have plenty of seed for sale; just click on the green box pdf link above.)
Meanwhile, keep warm and tell us about where you live. Hearing about folks tilling their garden and running around in T-shirts gives us hope for spring! — Jackie