Our bitter cold is holding tight but the end is in sight
Yeah, we're darned sick of below zero temps, night and day with windchill temperatures of -5 to -60 degrees. (Did you know that your skin can freeze within 5 minutes when it's that cold?) Will found that out the hard way … almost. We were tying our new countertop on top of the Subaru when it was -30 with a stiff wind. He couldn't tie the ropes with gloves on and took them off. By the time we got the two ropes tied, his hands were REALLY cold. Painfully cold. And we were really glad that they were still pink instead of frostbite white! Close one.
Of course we've been getting chores done very quickly, making sure all animals have plenty of bedding and feed to make more calories to fight off the intense cold.
So once chores are done, we have a lot of inside time! I've been packaging seed orders; we've been planning on crops we plan on growing this year, both for trial, our use and to save seeds from; and working on projects in the house. I bought Will a chainsaw sharpener last year for Christmas and one of his projects was to build a stand for it. He'd picked up an old stand from a drill press at the dump a couple of years back and he added a slightly smaller pipe to fit down inside it and cut a circular plate of steel to fit on top of the pipe, welding it in place. Then he drilled two holes in the plate to match the holes in the chainsaw sharpener base. He added two bolts and he had a portable, handy chainsaw sharpener. So one cold morning, he brought in all ten of his chainsaw chains and sharpened them. Now he's ready to hit the woods or do more log work on the front porch, barn, or house!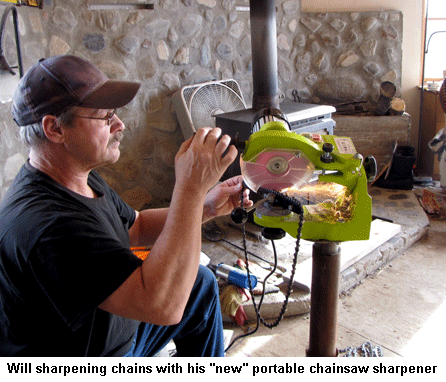 Will also finished the trim around the laundry room door and windows in the addition. A year ago we'd picked up a truckload of knotty pine paneling from the dump that someone tore out of their house. We didn't know what we'd use it for but just that it could come in handy. It did. Will cut all the trim from that throwaway lumber and it looks great.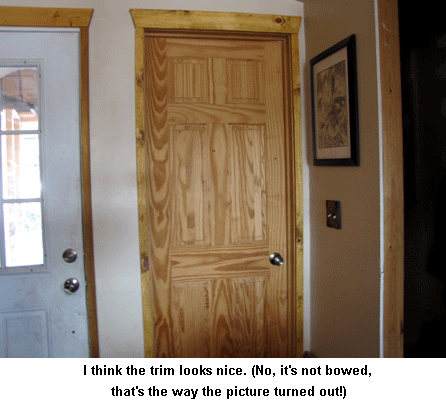 This winter, we've been accumulating boxes of laminate flooring for the entryway, living room, and dining room. We found a wood grain we liked, Brazilian Koa, at Menards and wanted to get enough in case they discontinued it. (Happens a lot!) Now we have enough to do the job so I've noticed Will figuring out the initial work needed. Could happen fairly soon, but first we've got to clean up the concrete and rock work behind the wood stove so we don't make a mess on our new floor. Yes, we would have rather done the floors in real wood but just couldn't afford it. The laminate will look pretty and has a 30-year warranty. — Jackie