I'm hunting up my pepper seeds and my jiffy pellets
It's mid-February (does THAT seem possible?) and pretty soon I'll be starting my peppers and petunias. They take a long time to get big. After the peppers are about 4 inches tall, I put them in our enclosed porch, next to the greenhouse, where it's much cooler. Instead of 72 degrees, it's more like 55-60 degrees. I've found that they grow slower and develop stronger roots and stockier stems, and don't get leggy and bloom too soon. We'll be putting them into the hoop house in May with night-time heat if frost threatens. I can hardly wait! DIRT! I do use the super-sized Jiffy pellets with biodegradable netting then transplant the pellet and all into large Styrofoam cups when the roots just begin to come through the sides of the pellet. That works great for me and the pepper harvest is terrific. Even here in the North.
Last night I made deep-fried, fresh, homemade tortillas from some of the Maseca (masa harina) that friends from our fall seminar gifted me with. Thanks so much, Teresa and Jose! I've got a tortilla press and all you have to do is mix the masa with a bit of salt and water, divide into balls, and press with the tortilla press. I use a piece of waxed paper to prevent the dough from sticking to the press. After pressing, I roll the tortilla thinner with a rolling pin. Then I fry them in about two inches of hot lard. By tilting the pan back and forth, the hot grease rolls over the top of the tortilla making it bubble. This makes a nice crispy tortilla. Served with melted Velveeta cheese mixed with half a pint of my own salsa, these make a meal in themselves!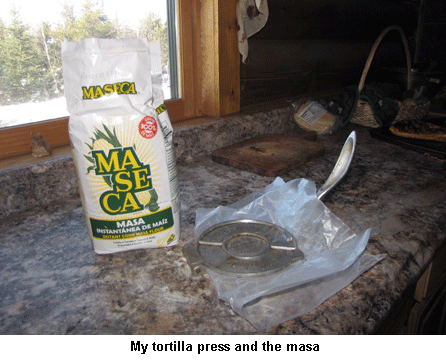 I just had to share this cute picture with you. As Hondo is really getting too big to sit on my lap (which he still does from time to time), he decided that Spencer would make a good substitute. He's always sat on him, but lately, more so. He just walks up when Spencer is lying down and backs up and sits down on him. Plop. Spencer doesn't mind and we think it's so funny.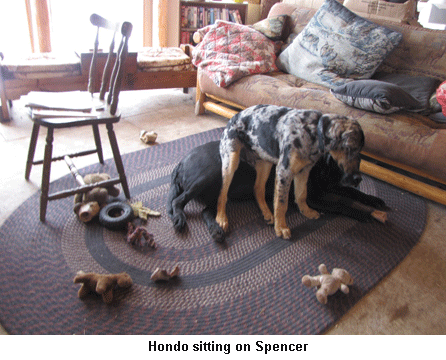 One of these days, I'd like to get an English Mastiff puppy. And as Mastiffs grow to weigh 200 pounds or so, I sure hope he doesn't take Hondo's lead and plop down on Spencer! — Jackie