We got hit with another major snowstorm
We spent all day yesterday shoveling out. Will plowed the drive with the plow truck and I used the snowblower to clear paths to the barns and pens. But there was just too much snow! Instead of the 2-4 inches forecast, we got clobbered with about 16-18 inches with wind. Wow. So today, Will's out with Old Yeller, our bulldozer, shoving back the huge snowbanks on both sides of our mile-plus long driveway. There's just no more room to plow more snow!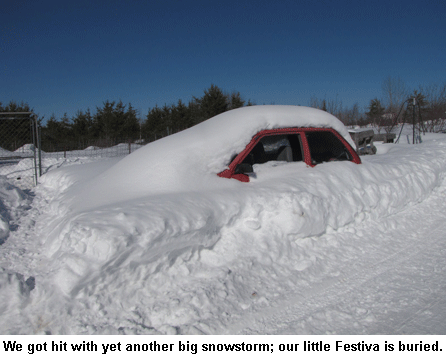 I've been busy planting peppers in Jiffy pellets which I put in small containers to help keep track of the 18 different varieties (or so!) of peppers we're planting this year. I plant and water the seeds, then I put each container inside a plastic shopping bag to keep the humidity inside. It makes all the difference in germination. Another thing that makes a difference is warmth. Since we're off grid (using heat mats under the trays isn't possible) and because our greenhouse is only about 65 degrees at night, I place my planted flats on shelves around the wood stove in the living room.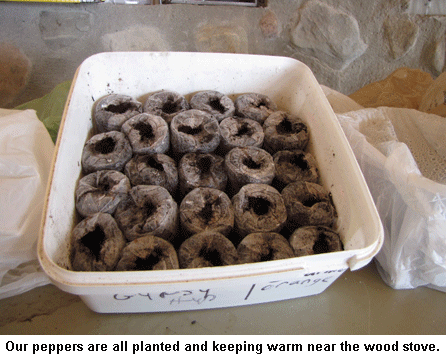 As Will's working on the rock work, getting ready to clean it up to seal, I had no shelves to put them on! But I'd picked up a small metal shelf unit on wheels on a Do-Bid auction very cheaply and brought that in to use. It works great and I'm waiting for my peppers to germinate. If they're kept warm and moist, they usually germinate in about 5-7 days, much under the "usual" germination time. Just putting the flats in a sunny window is fine IF the sun doesn't cook the seeds in the daytime or chill them at night. It's the chilling that happens here as some nights are still below zero. However TODAY the sun's out and the temperature is over 40 degrees ABOVE zero! Hooray! — Jackie