Despite our latest snowstorm, my first peppers are up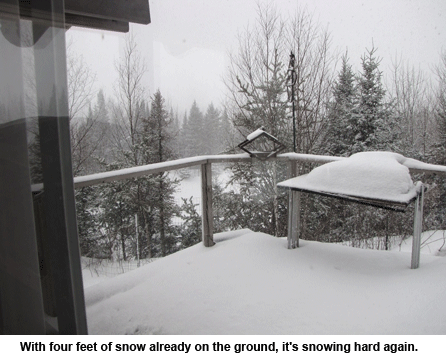 Yep, ANOTHER snowstorm! The weather radio, which we live by, is calling for a major winter storm with up to 14 inches of blowing, heavy, wet snow falling today, tonight, and tomorrow. Sigh. Just when we've been enjoying temperatures of 40 degrees above, sunny, and melting. It felt like spring.
So we went into the "getting ready for the blast" mode: give extra hay and bedding for the critters, fill the chicken feeder, get to town and get extra gas for the plow truck and bulldozer, not to mention the snow blower. And the snow is starting to fall heavily. Maybe I'll bake bread. I always feel like cooking when it's storming. Blizzards make me hungry!
But to perk us up, we found that our very first peppers of the year have germinated! The Early Jalapeños were, indeed, early! They popped up in seven days. So cool.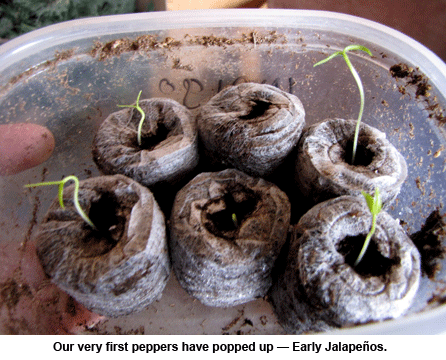 In two weeks I'll be starting our tomatoes. As our fledgling seed business is doing so well, we've decided to grow and save seed for more than 25 heirloom, open-pollinated tomatoes this year in addition to several other crops such as beans, squash, and cucumbers. (here's still plenty of seed left so if you're thinking about ordering from us, please feel free to click on the button above to see what we have. And we have quite a bit of all of the seed offered (even the Bill Bean tomatoes, which I thought I was out of but then discovered I'd saved another envelope of them). Spring WILL come this year; I promise. — Jackie