The benefits of our cold winter
A whole lot of work inside the house has gotten done this winter. It's just been too cold for us to do anything outside. Usually Will is out in the woods with Old Yeller, our bulldozer, cutting firewood for future years and then we're cutting and splitting it up. This year, he just couldn't do it. The snow is way too deep and it's brutally cold both for us humans and our trusty equipment. We'll get at that in a few weeks, while there's still snow on the ground and it's a lot warmer, even if it's still frozen.
This last week, Will finished the rock work behind our living room wood stove. He scrubbed it down with cleaner, which removed the cement stains on the rocks. Then he painted on sealer which gives the rocks a wet look, setting off their colors. He had to do that before he laid the laminate flooring. It looks absolutely gorgeous!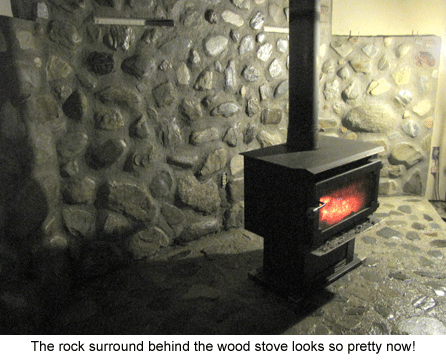 Meanwhile, I was cleaning out cupboards and moving smaller furniture here and there, clearing the floors in the dining room, entryway, and living room so he could work. Then Will went around making sure there were no nail heads sticking up or other "bumps" on the floor. While I was in town, he began laying the laminate. (He sometimes gets to cussing when starting something picky that he hasn't done before!) But by the time I got back, things were leveling off and he had the knack of it. Actually, it went pretty fast, taking one afternoon, into the evening, then finishing the next morning. I helped by hauling boxes of laminate out of the bedroom and opening them. Then I took empty boxes outside to burn, one or two at a time. (Pretty good gofer, I am!) I've learned that with Will, I need to stay out of the way. He doesn't like much help! Now there's just the trim to install and the furniture to move back.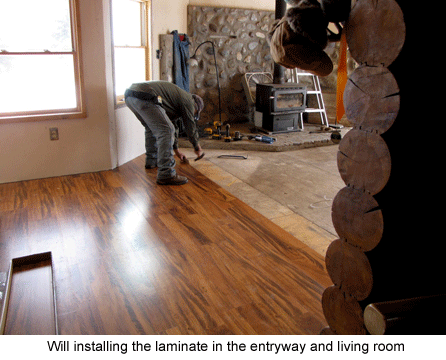 As there is a lot of stuff all over the kitchen counter, it's a good time to get rid of things we just don't use. Clutter is SO easy to accumulate!
Oh, just a note: there was no odor at all from the installation of the laminate as one reader warned. I just thought I'd mention this so others who are considering installing it wouldn't avoid using it because of this issue.
Our weather's in a warming trend and it's supposed to hit mid-thirties by a week from now. I can't tell you how happy that makes us! — Jackie