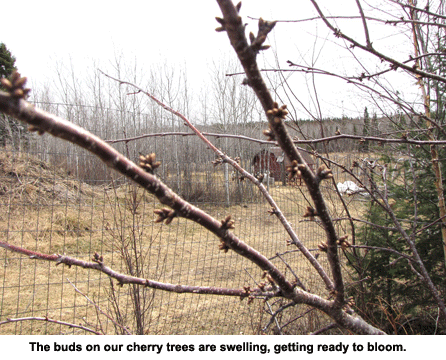 Although we're scheduled for more snow, the ground is pretty much thawed and it feels like spring. And FINALLY our water line from the well is thawed out. Hooray! We're definitely doing some work to prevent that from happening again even though it was the coldest winter in all Minnesota history.
I've been continuing transplanting, now working on my Pink Wave petunias while my late tomatoes continue growing. And in the garden, our cherry trees have swelling buds and the rhubarb is popping up out of the ground with cone-shaped red noses and small crinkled green leaves. It feels SO good! Yesterday I cleaned out one of my front flower beds, digging a few clumps of nettles and grass so at least we'll start with a clean bed. I also planted several packs of sweet peas. It seems like I always wait until too late and they don't do so well, becoming overwhelmed by peonies and delphiniums as the weather warms. (Sweet peas should be planted as soon as you can work the soil.) A few years back I had magnificent sweet peas all over the yard, on the pallet fence, across the front of the house, and here and there, climbing on wire and strings. WOW! I want that again.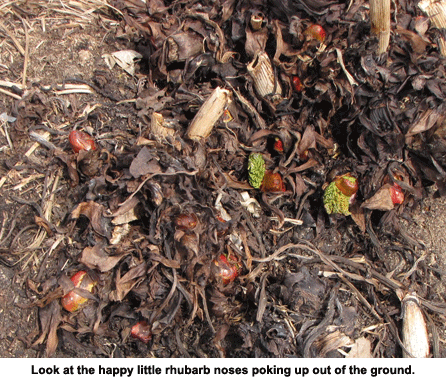 I'm simmering up ham to can (again) and the pantry will be fatter soon.
Will's busy repairing our big field disc so when the ground is ready he can disc up our new hay-field-to-be in preparation for seeding it in. We're also planting a few acres in sweet corn, pumpkins, and squash so he'll be discing that up too. Then there's the hay fields we rent that need parts plowed (weather and rain permitting), fertilized, and re-planted. Always so much to do, come real spring.
Yesterday I spoke at the Northern Minnesota Hospital Auxiliary meeting in the city of Virginia, Minnesota. My subject was gardening and that was very well received by a packed auditorium. Of course, there were dozens and dozens of questions following my presentation. I'm tickled that so many folks are once again turning to gardening, some after years of abstinence. It seems like people all over are sick of food from Mexico, China, Brazil, and other foreign countries that still use very toxic agricultural chemicals. These chemicals are perfectly legal there but are banned in the U.S., where they are still made and then sold out of the country.
We ordered a few fruit trees from Fedco and St. Lawrence Nurseries so will soon be planting. I'll try a shovel in the orchard this afternoon and see how that goes. Sigh. I wish I were twins! — Jackie