Our daytime temps are in the eighties and it's dry. So dry that Will has been able to get out and disc up our new corn and pumpkin patch, raising dust even!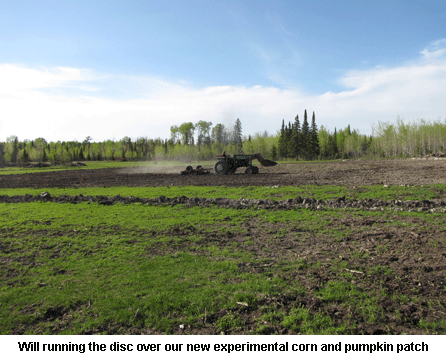 I've got the garden nearly all planted, putting in two varieties of sweet corn, Espresso and Miracle, to try this year; Provider bush beans, three varieties of squash, and millions of tomatoes. Okay, maybe not millions but 30 different open pollinated ones, plus a few hybrids such as Sun Sugar, Super Marzano, Indigo Kumquat, and Sweet Million. I'm done with tomatoes! Whew!
But we're looking at the new corn/pumpkin patch and thoughts of expanding our garden flit through our minds. But it's a patch about 250′ x 250′ and that's a lot of whatever we plant!
I've got to till the old strawberry spot in the berry patch where I'll be planting Glass Gem popcorn and some cucumbers. The weeds got bad the year we fell off the barn roof and we finally gave up and plowed our strawberry patch under. This year we'll keep it tilled and mulched and maybe next year we'll do strawberries again there. Will saved our patch by the house by digging up all of the strawberries, pulling all of the grass/weeds from the roots, tilling the patch up, then re-planting the clean strawberries in black plastic.
It's hot today so we're taking it easy during the heat of the day. Then this afternoon, it's back to work. Will's been hauling manure from the area of the cow pasture where he fed round bales all winter. But both yesterday and today he had equipment breakdowns and it's going kind of slow with only seven loads having been spread on our little hayfield below the goat pasture. By the way, that little field looks wonderful. I think back to five years ago when it was just willow brush, stumps, and rotten logs and am simply amazed! Shows what a little work, a bulldozer, and lots of manure can do. The clover and orchard grass are already eight inches tall and very lush. We're supposed to get rain this weekend and with that manure on it, it will simply shoot up. — Jackie