We've got all the tomatoes out of the Wall-O-Waters and caged (staked)
We got our corn (all 49 rows of 250 feet), squash, and pumpkins, 4½ rows (250-foot) of Dakota Pearl potatoes in before the heavy rains a few days ago. We ended up with another 2 inches each day for two days.
I bought more seed potatoes and went out to see if I could plant them but came right home. There were 4 inches of water in the potato trench and I couldn't walk on the field because it was too muddy. I sure hope the seeds don't rot in the ground before it dries up. The rain could be a good thing, getting the seeds off to a good start. Or the ground could be too wet and they'll rot. We'll see how things work out.
Meanwhile, between rain storms that have continued, Will and I got steel posts pounded in next to the tomatoes, the Wall-O-Waters pulled off of them and wire cages up on nearly all of them. Until we ran out of cages. Oh well, some will just have to be tied up to the stakes. We grew and planted out so many different varieties for our new little seed business that we ran out of cages at 75 plants.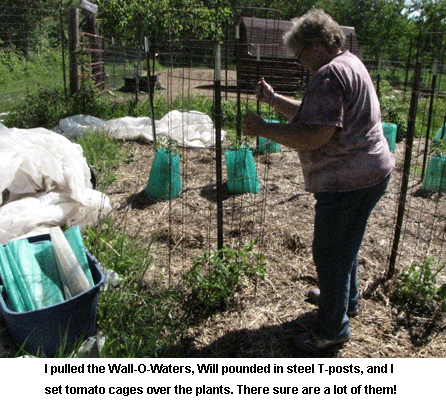 Will has been trying to get our new bigger hoop house up and running between other big projects. We're late this year because spring was a month late in coming. He's got the framework all up, trying a few new ideas…chiefly bracing the sides and ridgepole as we may leave the plastic on over winter. Now if it ever quits raining and blowing, he'll get the plastic on and we can get our crops planted inside.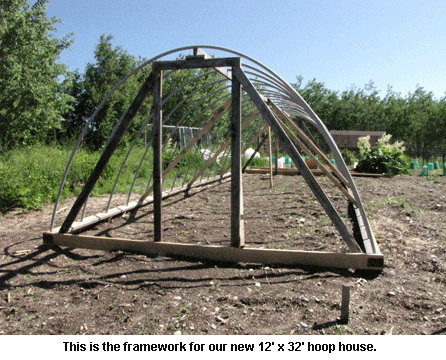 David and I will be leaving for a week's trip to Montana to visit my adopted son, Javid, who is recovering from a pressure sore in a nursing home in Helena. He's in a wheelchair and receives services through the state. If you think you have fewer and fewer freedoms, try being handicapped! They decided that he'd be "better off" in a nursing home permanently instead of his own apartment with a job. You bet he's not going for that one! He wants to move back to Minnesota to be closer to family and, hopefully, a more disability-friendly state.
So I won't be able to blog on Wed. Don't worry, David and I will just be on the road and I'll be back on Monday. Will is taking care of the homestead while we're gone and I'm sure he'll have plenty of new things to show us when we get back. See you soon! — Jackie