After traveling nearly 3,000 miles round trip, David and I finally arrived home on Saturday evening. We were both pooped as both of us have a nasty summer cold! But we had a great trip and did a lot.
First off, we had several great visits with my adopted son, Javid, and made arrangements to start moving him to our area in Minnesota where he wants to be, instead of in a nursing home. Now all I have to do is find him housing here and get all the paperwork done. Whew.
In between visits, when Javid had to be lying down, David and I visited two of our old homesteads, one near Craig, and the other way up the mountain, north of Jefferson City. (I thought David was insane for driving 7 miles up a 4 x 4 trail littered with granite rocks and washouts — with his Monte Carlo!) But after a few tense moments, we did make it. That area is much the same as it was, glowing with wildflowers among big pine and spruce trees. It felt good but sad to be back.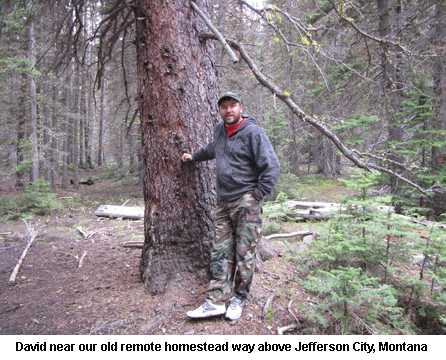 Our Craig area homestead was easier to get to but we felt bad because the place had fallen into disrepair. No one was living there and it looked lonely. But we did pop in on our best friends up there, Ron and Gloria, and had a wonderful visit that was much too short.
Now that I'm back, I'm trying to get caught up and also trying to find Javid an apartment with personal care assistance. Everything is hard with a nasty head cold, though. Lots of vitamin C and hot showers! The garden looks great but the weeds are coming on strong with all the rain and heat we've been having. — Jackie