Q and A: whole wheat bread recipe
Whole wheat bread recipe
Cry for help! I have and am a huge fan of Jackie Clay's Pantry Cookbook. The whole wheat bread recipe on page 120 is giving me fits. I have looked far and wide for a decent all whole wheat flour recipe and I'm sure this fits the bill if done right. I have followed the recipe to the letter and still the dough is so sticky I have to put it on a cookie sheet in round loaves with spoons. I have tried adding flour so it is less sticky as suggested but I usually end up with a brick and have used 8 or even 9 cups of flour. What am I doing wrong?
Gretchen Falkenburg
Cochranton, Pennsylvania
Okay Gretchen, I made up a batch of that whole wheat bread last night, just to be sure it's not the recipe. (I haven't been making/eating a lot of bread lately as I'm trying to cut down some weight and we LOVE our homemade bread.) I used the recipe right to the dot. This recipe makes a sticky "batter" that's thicker than a regular batter as you can "kind of" knead it but your fingers will get sticky. Most folks just mix it well with a spoon and let it rise in the bowl, covered. When it's risen, the dough is much less sticky and with lightly-oiled fingers you can minimally knead and shape it. I made mine into a single loaf and let it rise until a bit more than doubled (it keeps the whole wheat bread much lighter).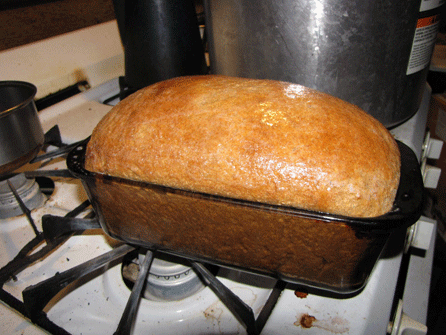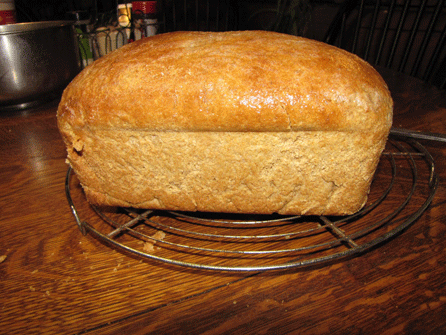 It rose wonderfully and I baked it. (When you bake any pure whole wheat bread, bake a little longer than recommended. If the crust starts to get too brown, cover it with aluminum foil. Pure whole wheat bread is quite dense and if you under-bake it the center will still be doughy when the outside looks perfect.) As you can see, it looks great and I ate two slices last night while it was hot and another two this morning — can't help myself! So don't add more than the recommended amount of flour. I added 5½ cups for a middle-of-the-road amount. You don't want it like "regular" bread dough. It will be sticky. I hope this helps with your next batch. Good luck. — Jackie