The sun's out and we're making use of the nice day
After a day's worth of cold, nasty weather, we were real happy to see the sun this morning. It was gorgeous, seeing the fog lifting from the creek, ponds, and the plowed field. Will's been working alternately on the barn's stonework and getting ready to do more under our house where our future walkout will be. He's been digging and digging, as we have great plans for that (usually) boring walkout.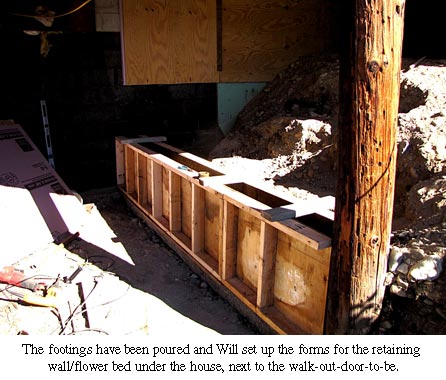 We're putting in stepped flower beds with mixed slipform rockwork and landscaping blocks under the house which will hold back the side hills. On the outside it'll be the same with nice flower beds. When done, the effect will be a combination Northwoods and Italian vineyard as I'm planting grapes next to the house that will climb trellises and cross over the entrance to the walkout and go up to climb on the railing of our upper deck.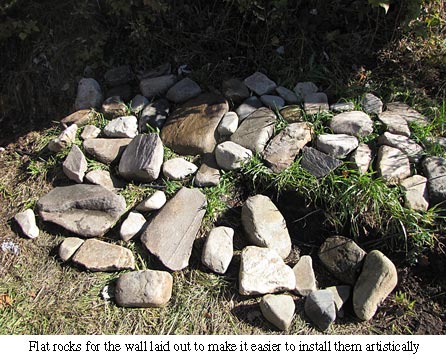 Of course, the under-the-house flower beds will be quite shady, even if facing south. But I'm going to try hostas and see how that works. With a drip irrigation system runnning off our big irrigation system, it should be pretty and quite labor-free. It will be a nice, shady place to sit in the afternoons and we can look out onto the beaver pond. And we will be able to walk in and out of the basement easily. No more carrying buckets of potatoes, carrots, and onions down the basement stairs! (Of course, we won't get the door cut in till maybe next year…)
We carried in more squash, pumpkins, and Painted Mountain corn, depositing it on the inside floor of our greenhouse/sunroom. It's SO pretty I hate to use any of it!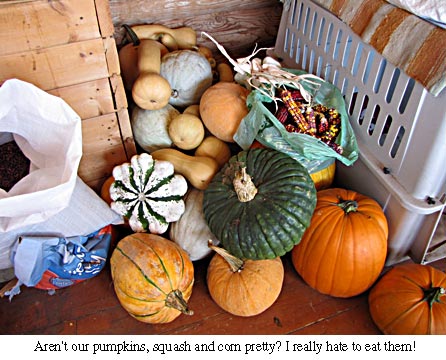 I'm leaving for Montana so pray we have a good trip! And that Will has no problems here on the homestead without his wonderful donkey-catcher wife home to help. — Jackie