We're back from our whirlwind trip to Montana
My oldest son, Bill, and his family drove with me out to Montana to pick up my adopted son, Javid. We took their motor home and it was sure convenient to be able to sleep and eat in our motel on wheels! My grandkids, Mason and Ava, rode in their car seats, seatbelted on seats facing the table so they could snack and watch movies on a dvd player while bored. They were VERY good on the trip!
We drove all night to get to Montana and the trip took 24 hours. Whew. Luckily the seats were comfortable — no petrified butts! We stopped at the nursing home and arranged things and signed a bunch of papers then went out to eat. We camped at Canyon Ferry Lake Campground overnight which was a whole lot nicer than camping in the Walmart parking lot. Because I have a senior passport to National and State forest campgrounds, it only cost $5 and was well worth it. We had a great sleep then explored the beach in the morning and skipped rocks.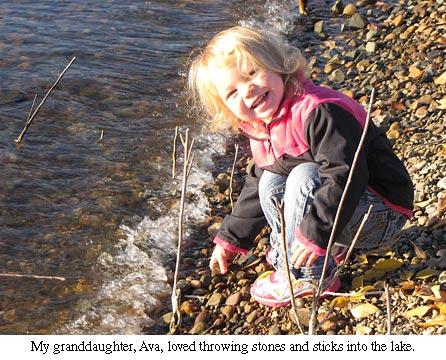 The next morning, we picked up our reserved U-Haul trailer in Helena then went to the building where Javid's things were stored. Luckily we had lots of help loading and were done in less than half an hour. Again, we visited with Javid and loaded a few of his boxes from the nursing home. Then, to make the trip more fun for the kids and Kelly, we drove over Rattlesnake Pass to the frontage road along Prickly Pear Creek towards where we used to live, north of Wolf Creek. We stopped at a fishing access where I used to fish and Mason loved the old train trestle over the creek. Then we stopped at Wolf Creek for a little gas and on to another fishing access on the Missouri River where we watched fishing boats go down the river. (The upper Missouri is one of the premier trout destinations in the whole country and fisherfolk from all over come there to fish.) We ended up going up the very steep and long McDonald Pass out of Helena to a campground Bill had located. (I'd told him it was NOT my favorite pass and he agreed later after climbing it at 30 mph toward the top!) Beautiful campground though and we were the only ones up there.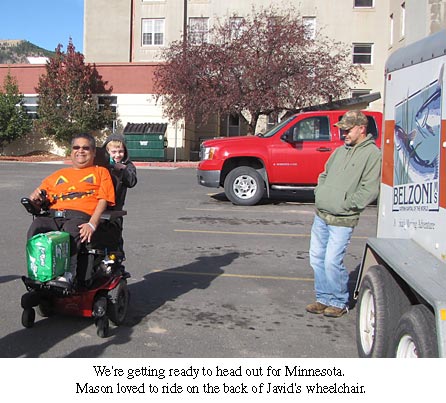 The next morning, we got Javid carried into the camper on a blanket and made comfortable on the back bed and took off for Minnesota. By then Bill and I were really tired but we changed off driving and, with a two-hour nap at a truck stop, we made it back in 22 hours. No touristing on that end of the trip!
Javid is now temporarily installed in the Fitzgerald Nursing Home and Rehab, in Eveleth and we are moving forward. I have a ton of paperwork to fill out to start his medical assistance. But once approved, he will be able to move to an assisted living apartment and be another step closer to living on his own again. It's been a long haul but we're glad we're making progress! And I'm SO glad to be back home again even though I sure do miss Montana! — Jackie