Yep, we had a wonderful Thanksgiving!
My oldest son, Bill, and his family came up to our homestead along with David and Javid. Together we made a happy feast of all those homestead foods. None of us had room for pie! I made two "pumpkin" pies from part of a Hopi Pale Grey squash (which I always use as it tastes great), an apple pie, and of course Will's cheesecake.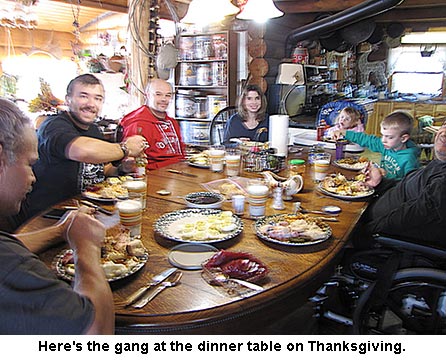 I guess David hadn't had any good home cookin' for awhile as right after dinner he went in the living room, sat in my chair, and fell asleep for two hours — with all of us chatting in the same room!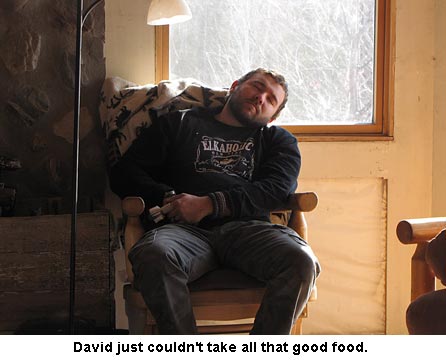 For the last week I've been having severe lower abdomen pain and made two trips to the doctor, finally having a CT scan on Friday. Of course, after surviving cancer that's always right on your mind. Luckily it was not cancer but diverticulitis, an inflamed pouch in my intestine. Funny — we always try to eat "good" with plenty of fresh vegetables, salads, and whole grains. Now I'm not supposed to have them as it will probably come back if I do. I'm NOT a white bread, processed food kind of gal so I see we have some adjustments to make. At least I got Thanksgiving dinner! — Jackie