Our first seeds are coming up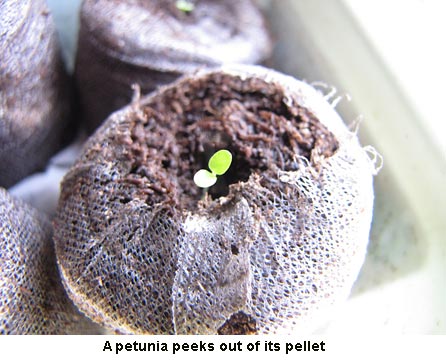 We're feeling springy up here in northern Minnesota! Our first pepper and petunia seeds are popping up. Boy, do they like the rock wall behind the little greenhouse. The woodstove is on one side and the warm rock wall behind, and a window beside them. You can see the little grins on the seedlings' faces when they come up.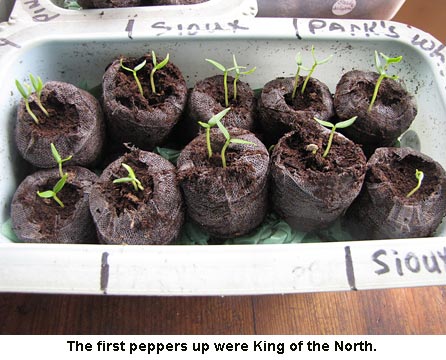 In a week I'll be starting tomatoes. Yesterday I put all of the new types of tomato seeds we've ordered this year together and then counted them. Wow, more than 25 NEW varieties. Then there are the OLD ones we love and will keep. Will, get out Old Yeller, our bulldozer — we need more garden!
We got a phone call yesterday morning from Chiwon Lee, a professor at North Dakota State University in Fargo. We had met at the Northern Plains Sustainable Agriculture Conference this spring and talked for a long time about hardy fruits and tomatoes, both specialties of his. He wondered if he could come visit us. Of course, we said YES! He brought a nice couple with him and we had a great time talking fruit and tomatoes. As NDSU has bred many early tomato varieties, he brought some of their seeds for us to try and I gave him many of our favorites along with some scion wood from our apple trees and a wild elderberry.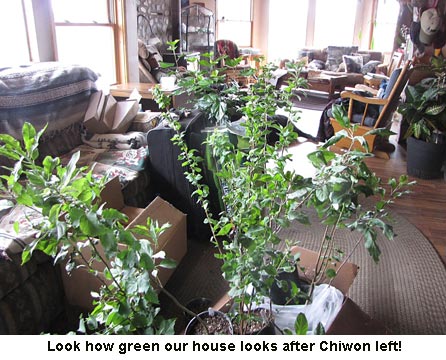 He brought us a whole carload of GREEN things! Seedling rootstock from Russian pears, apricots, Nanking bush cherries, and even grafted apples. Then there were four Easter lilies, a beautiful flowering house plant, and a HUGE hibiscus! We were floored! He also brought some tomato seedlings and grafting supplies and taught us how to graft tomatoes. And he showed us how to graft a tomato scion onto a potato rootstock, making a topotato (or whatever). I'm sure our grandkids will love those!
You never know when you'll meet wonderful people with like interests, do you? — Jackie