We've had a few busy days
On Monday, we traveled five hours to pick up a big load of used foam board insulation that our friend Mike found for us in a roofer's "trash." We had a great road trip with Old Blue, our '85 Chev pickup and stock trailer. Old Blue hadn't been driven on the road for a few years so we were hoping all would go well. It did and we were even home before dark, tired but happy.
Then yesterday we drove to Superior, Wisconsin,  to pick up a Kawasaki Mule (a UTV) that Will had found on Craiglist. We got it cheap ($200) but it has no motor so we're looking. Anyone know of one around anywhere? I'm confident somewhere, sometime, we'll get the Mule up and running and it'll be a big help to me traveling from one place to another, hauling garden stuff, mulch, rocks, dirt, etc. — and letting my bad knee rest up. On our way back, Will also picked up a very-used grain gravity box (wagon) so we can eventually haul and store bulk grain. We got it from our friend, Wally, down near Cloquet. (We did have a flat tire with Old Blue but luckily, had a spare, good floor jack, etc. and got it changed in a few minutes.)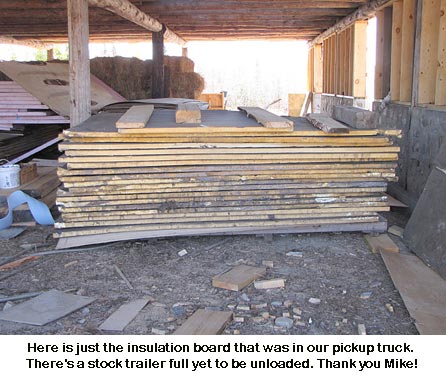 I'm real happy with the reviews on my new book, Summer of the Eagles, on Amazon. Take a look at a few:
• "The author keeps you voraciously tearing through the pages and at the end, you find yourself calculating the months and impatiently waiting for the release of "Autumn of the Loons."  
• "I don't usually read Westerns. I started the book as I was heading to sleep on a Saturday night around 9:30pm. Next thing I knew it was 2am and I was wishing the second book was already available. It is well-written, fast-moving, and very engaging. I loved the characters, the setting, and the imagery. I was totally drawn back in time to the wilderness of Wyoming."
• "I must give credit to Jackie Clay for writing Summer of Eagles. This is a story I can share with my mom and feel comfortable discussing the story line with her due to the fact that it does not have, nor does it need the graphic sex found in most modern day writings. I love the way Jackie builds up each person in the book. When I read a story I can usually figure out where the plot is going well in advance of the ending but Jackie tossed in a twist that caught me off guard. I am looking forward to the next book to see if she can do it again. Bring it on Jackie."
Needless to say, I'm happy to hear those reviews!
I've got the cover for the next book finished and it'll be mailed to the publisher soon so we can get Autumn of the Loons released.
In the meantime, I've been busy transplanting tomatoes and peppers. Boy, did we plant a lot of tomatoes this year! — Jackie