Our new apprentice, Krystal, arrived
We've got a summer apprentice homesteader, Krystal, who arrived yesterday from Georgia. She's anxious to learn what we can teach her for her own future homestead. I'm sure we'll have a lot of fun this summer together. Welcome to the family, Krys!

Yesterday, Will hooked our new tractor-mounted rototiller up and tilled a little out on the big pumpkin/corn patch on the new 40 to try it out. Then he brought it into the garden where there's less room to turn around etc. It did a wonderful job of working in the rotted manure that we placed on the garden over winter, leaving a fluffy, deep seed bed. We were really impressed. Today he and Krys are moving some fence posts and PVC pipes off our old small hoop house so he can get in to till that western corner of the garden, which hasn't been tilled for a couple years.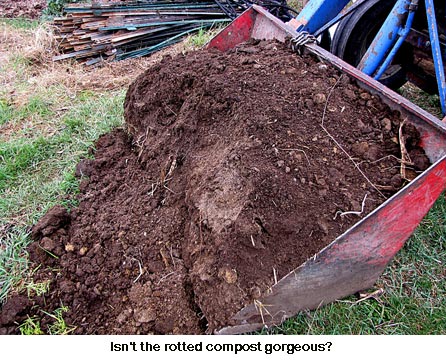 We are getting some rain today and we need it. The beavers say we're in a drought and it'll be a dry summer so we're getting ready for it with plenty of mulch available. We harvested some asparagus spears yesterday and Will brought a tractor bucket full of nice old, rotted compost down to the garden so they can spread it out on the asparagus bed. It hasn't had compost for a couple of years and we figured it needed it.
The fruit trees are starting to bloom and the Adirondack Gold apricot is absolutely covered with white blooms! And, boy, are they fragrant.
Tom got the shingles on the new porch roof and it looks great! I had a small accident as Will and I struggled to get a 500-pound porch rafter log stuffed into place (he thought the wide spacing would be okay but the roof was just too springy). I was hurrying to step off of the stepladder on the porch, missed a step and fell, bouncing off the porch onto the ground. Nothing broken but I feel like a truck ran over me, yet. Don't hurry when doing a job! — Jackie