Tuesday, September 29th, 2015
We'd been dodging the bullet for a month now and as we listened to our weather radio two days ago, we cringed when we heard the "F" word mentioned for Monday night and tonight. Freeze! Frost warning! So Will and I picked tomatoes for a day and a half straight. Then David and his girlfriend, Hannah, came after work yesterday evening and helped pick more. We knew that what didn't get picked would get frosted or frozen and be no good.
We have been picking, seeding, and canning tomatoes for a month now but suddenly we were in a rush. Covering would do no good; too many tomatoes and it was probably going to get too cold to matter (which it did). So we picked until after dark. Exhausted we called it good with both our enclosed porch and the front porch loaded with tomatoes.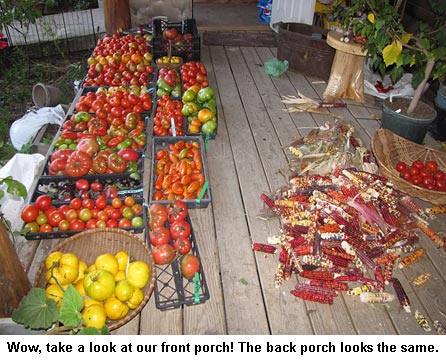 We not only had to pick them but separate the varieties and tag them so we could also extract seed as well as canning them up. That slowed things down until evening when we finished with separate varieties and just picked buckets full of mixed tomatoes, both green and ripe. We found new favorites as we picked, too. We especially loved the bright yellow, meaty Golden King of Siberia, which ran from a heart-shaped pound of fruit to even larger, meaty, and tasty tomatoes that just shone in the dark.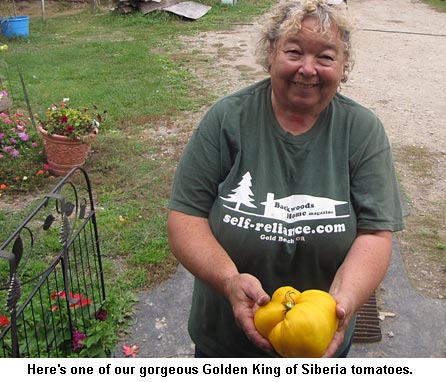 As it's supposed to get even cooler tonight, we're headed out to the garden and pumpkin patches with the tractor and front end bucket to harvest squash and pumpkins before they freeze. (Once they get frozen too badly, they quickly get soft spots and rot.) And boy, do we have lots of pumpkins and squash to pull. Last fall, the cows got out and got into the unfinished barn and ate many of the squash and pumpkins stored there. This year we're not going to take chances so if you come visit, you'll have to step around them all over the house! — Jackie