Thursday, March 31st, 2016
Previously, I'd taken in two front tractor tires to the Tire Shop in Cook to see if they could boot the splits in the sidewalls. No dice, the splits were too big and the guys said the boots might not work over time. So when I brought them home, Will started working on an idea for repairing them. New tires are several hundred dollars each. He figured, what the heck…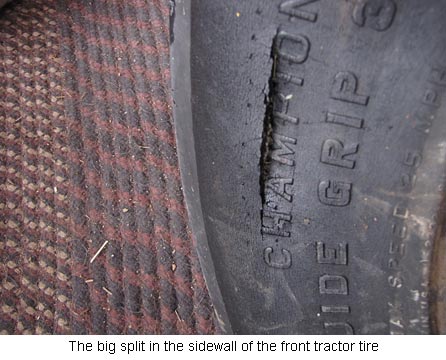 So, he began drilling holes on each side of the splits and threading wire through and through, effectively "sewing" the gaping split together. Once tight, he then coated both inside and out with a liberal coating of black Shoe Goo (silicone sealer) to reduce roughness and protect the outside from catching on field debris. Now he's going to put two boots, one smaller and the next, (larger over the first, inside). Then it'll be ready for a tube and back on the tractor. You can hardly see the spot where the ugly split used to be — no big lump, no roughness at all.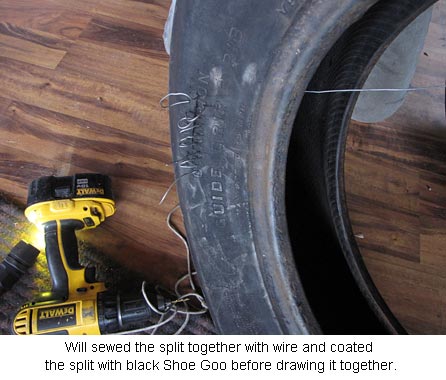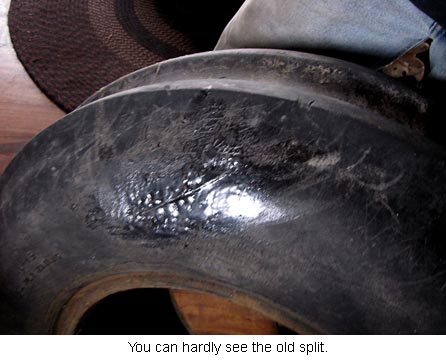 Of course, it remains to be seen if it'll work, long term, but he has very little invested except for time and energy. And he thinks it will work, just like his homemade cement tractor wheel weights he made a couple of years ago. Cool, I love coloring outside the lines!
Meanwhile, I planted several more varieties of tomatoes and the first I planted are already coming up. That's three days! The first peppers are almost big enough to transplant so that'll be a next weekend job.
Yesterday I heard a killdeer and red-winged blackbirds singing! AND I saw a robin. This morning red-winged blackbirds were in the tree by the chicken yard. Spring's here for sure! — Jackie