We survived New Year's Eve
We were a little crazier than usual this New Year's Eve. No we weren't partying, but with David and Ashley moving into our house after their rent became a stone around their necks and company coming for New Year's Eve, we were pretty busy. The craziest was when David and Ashley arrived with their huge king bed. (We didn't even know if it would FIT up our stairs to the bedroom!) But David pulled from above and Will shoved from beneath and, lo and behold, it finally popped up the stairs! Luckily, the base and bedsprings came apart so those were a snap to get up the stairs.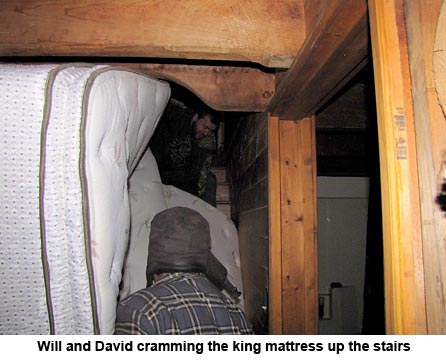 My son, Bill and his family came up New Year's Eve day for a belated Christmas dinner. We feasted and enjoyed opening Christmas presents. Then David took grandkids, Mason and Ava, out with the snowmobile. Mason rode the sled behind it. (David drove slowly and carefully!) Ava rode in front of David. Then they went sledding down our hill to the pasture.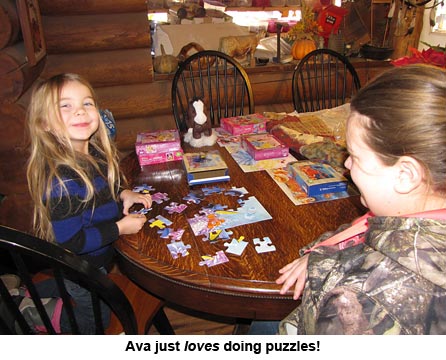 Afterward, Ava and puzzle queen Ashley put all six of Ava's Christmas puzzles together. Then, on a roll, Ava decided they'd start Ashley's new puzzle. So they got that started, and now I have two puzzles on the dining room table, and neither is small! Oh well, we improvise well.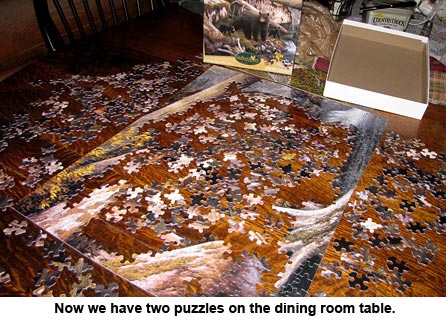 The new well is working to water the stock down by the new barn. Great water and LOTS of it! What a good idea that was. — Jackie