On Saturday, we drove down to my son, Bill's, for granddaughter Ava's fifth birthday party. The weather was nice and we had a great time visiting with all the family and Bill's friend, Andy and his family. Again, the kiddos played Pie Face and both Mason and Ava got a face full of whipped cream.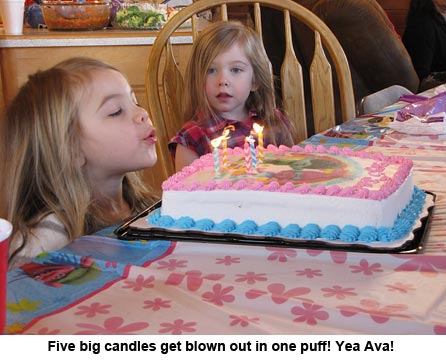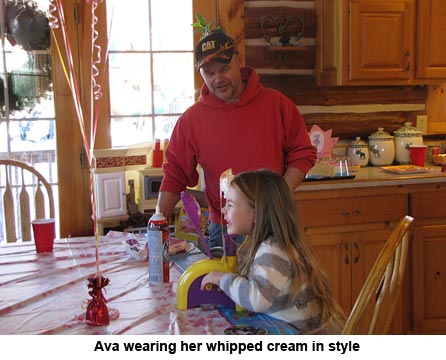 Thank goodness, our severe winter weather has broken. Yesterday it was sunny and 31 degrees and today it almost hit 36! Wow, I can tell you it sure feels great, just being in the sunshine and breathing in warm air. I'm sure we'll still have plenty of snow and cold but a break is sure welcome, and it's supposed to last for a whole week!
Let me tell you about a very positive business deal we just had. Four months ago, we bought a battery for our ATV from DB Electrical, online. Two weeks ago, it fried. I got busy and found the order number and Will called, hoping there was some sort of warranty. He was on the phone for exactly two minutes, 22 seconds and the guy said "It's in the mail." A replacement, that fast — it seemed unbelievable! No "Well, you must have done something," or "We don't warranty electrical products." Just "It's in the mail, should get to you on Wednesday." Wow! So anyone who needs reliable service check out DB Electrical. I know we're lifelong customers now.
It doesn't seem possible but in three weeks I'll be starting my first garden seeds: peppers and petunias. Once seed starting begins, spring seems a whole lot closer, doesn't it?
Will and I have decided to offer another homesteading seminar here at our place, Friday, Saturday, and Sunday, August 25th, 26th, and 27th, providing there is interest. A lot of people have been asking about another seminar so here is your chance, should you decide you'd like to come. I'll be posting more information on our website, www.seedtreasures.com, in the near future. — Jackie