First of all, I hope you all had as good a Thanksgiving as we did.  The weather was perfect, sunny and not windy.  While my sister, Sue and her son, Sean didn't get to come up north for the holiday because she had the flu, my son Bill and his wife, Kelly were here to help us celebrate in style.
As usual, I cooked too much and we all ate way plenty; so much that we had to wait two hours for pie!  Groan.
But I got a huge surprise.  While I was putting the finishing touches on dinner, Bill went out and came back in lugging tools and wire.  He wanted to hook up our battery bank.  WOW!  With David to help him, Bill set about mounting a switch to change use from the battery bank to the generator when it came on, automatically, then making cables to hook the four big deep cycle batteries together.  It was so exciting.  I couldn't help, as I was doing dinner, but I kept listening to the work downstairs through our floor register.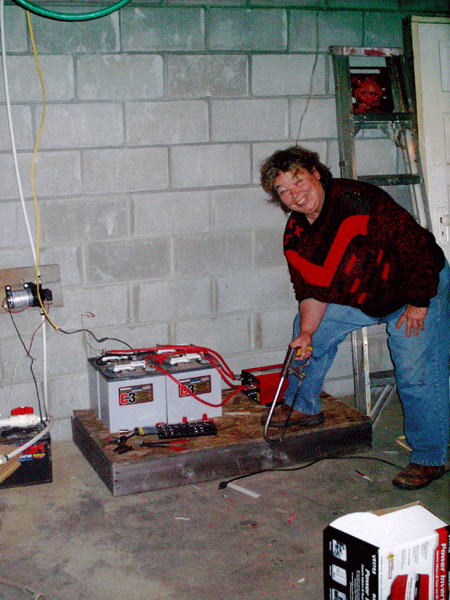 As it used to be, when we wanted to use anything electric; lights, the computer, watch a movie or run the fish tank filters, the generator had to be on.  It didn't use to be such a problem, but with the price of gas continuing to spiral out of control and with me taking care of Mom, we use MORE lights.  It isn't very self reliant when you spend $300 a month for gas for electricity!
Eventually, we will run total solar and wind power, but we can't afford it at one whack, so to cut down on the cost, we're starting small; with four batteries, a 2,500 watt inverter (changes battery 12 volt power to household current), the power switch and soon to be hooked up, our two small solar panels.
When we got through last night, we were running our lights, David's TV & video games and the water pump from our storage tank in the basement totally on the batteries.  It seemed so strange to NOT hear the generator run and still have the lights on!!!
We're still kind of working the bugs out of the system; we'd gotten lazy about things like turning off the lights (with the generator on, what the heck?), phantom loads (unpluging the TV when you're finished, not just pushing the off button, cause it's still ON!), etc.  But we're all very excited about taking this huge step toward self reliance.  It will cut our generator useage by at least half, probably more and it sure spurs us on to think of more ways to save money and depend on gas even less.
Thankful?  You betcha!  Oh yeah!  Now if we can find some really cheap solar panels……Mmmmmm.