After being severely powdered, the blister beetles seem to have mostly died or flown elsewhere. We're thankful as Will had even found and powdered those in some of our bush beans. That's a first! They usually only target our potatoes first and some tomatoes growing next to them. Maybe they're hungrier this year? Lots of folks have them, it seems.
Yesterday, I went in to the ortho clinic and got both of my knees injected with cortisone. It's funny but the not-so-bad knee hurt like heck two hours after being injected, where the worst knee felt much better. I mean it hurt so bad I could barely walk! I finally took a high-powered pain pill, which had been prescribed after I fell on the ice this spring. I hate taking them, but I couldn't stand the pain. And I'm pretty pain resistant. Anyway, this morning, it's much better. I'm even thinking of trying to till some of the rows of beans in the Wolf Garden. We'll see how that goes. I will take it easy. After my injections, my friend, Dara, met me at our local cafe for lunch. And she'd brought a beautiful photo, signed and dated, which we both said looked just like my old Morgan stallion, Bragg, who was the main character's hero horse in my series of Western novels, starting with Summer of the Eagles. Even Will said, "There's the Hawk!" I just love it and it made the knee pain worth it. Thanks Dara!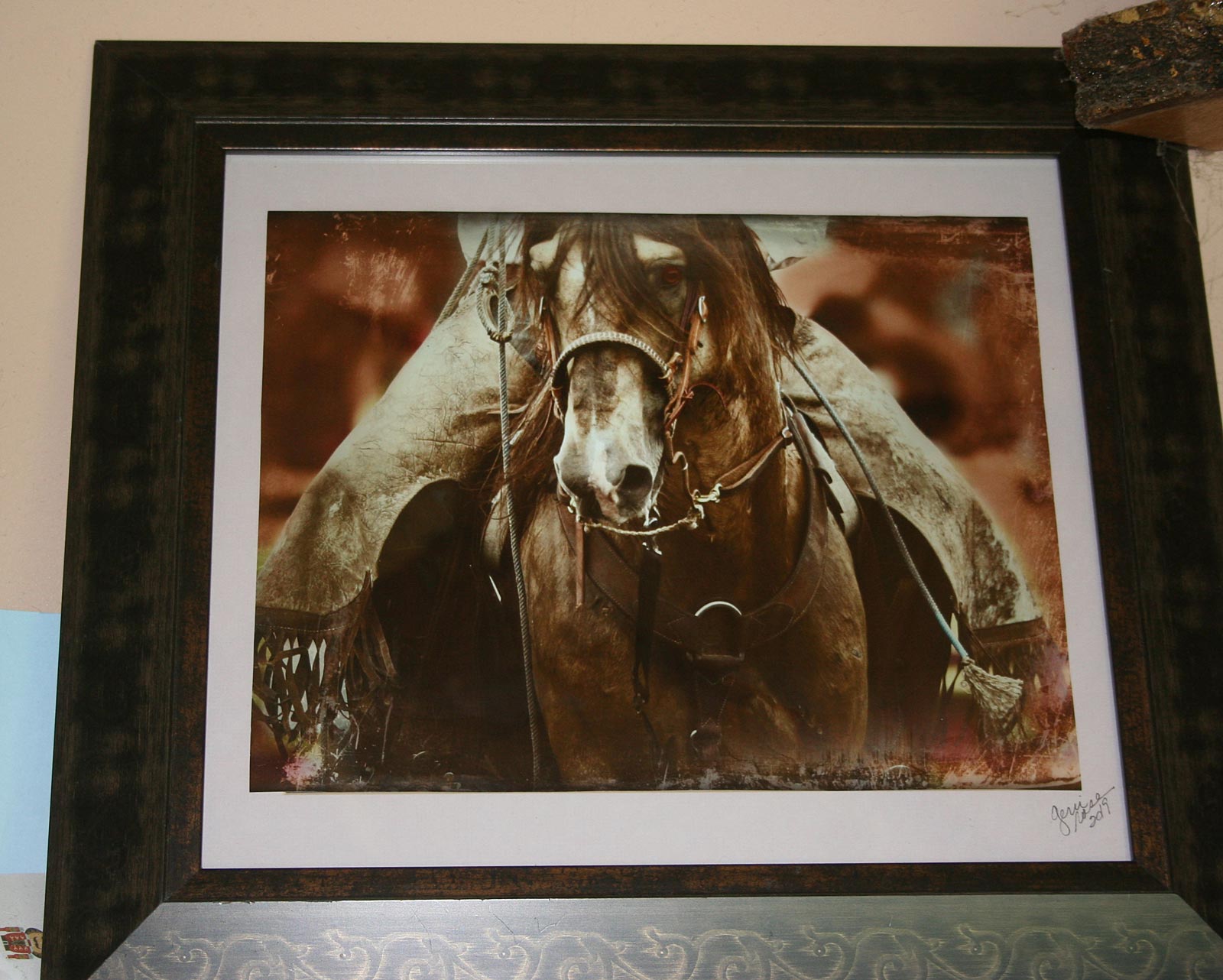 Meanwhile, Will and Charis are baling and raking hay. She's doing such a great job, learning to make hay. Few people ever bale after only a week's worth of instruction. But now she even knows how to replace twine in the box and grease the equipment. What a wonderful help she is!
I'm simply stunned at the bloom on one of our two-year-old clematis vines. It's just covered in purple blooms. I had intended on having it climb up the 2″x4″ inverted V that David had put over the gate opening to attach Christmas lights to. But this spring, Will took it down, for some reason neither of us can figure out. Now I'm going to put it back up so next year, that clematis can climb right up it. How pretty that will be!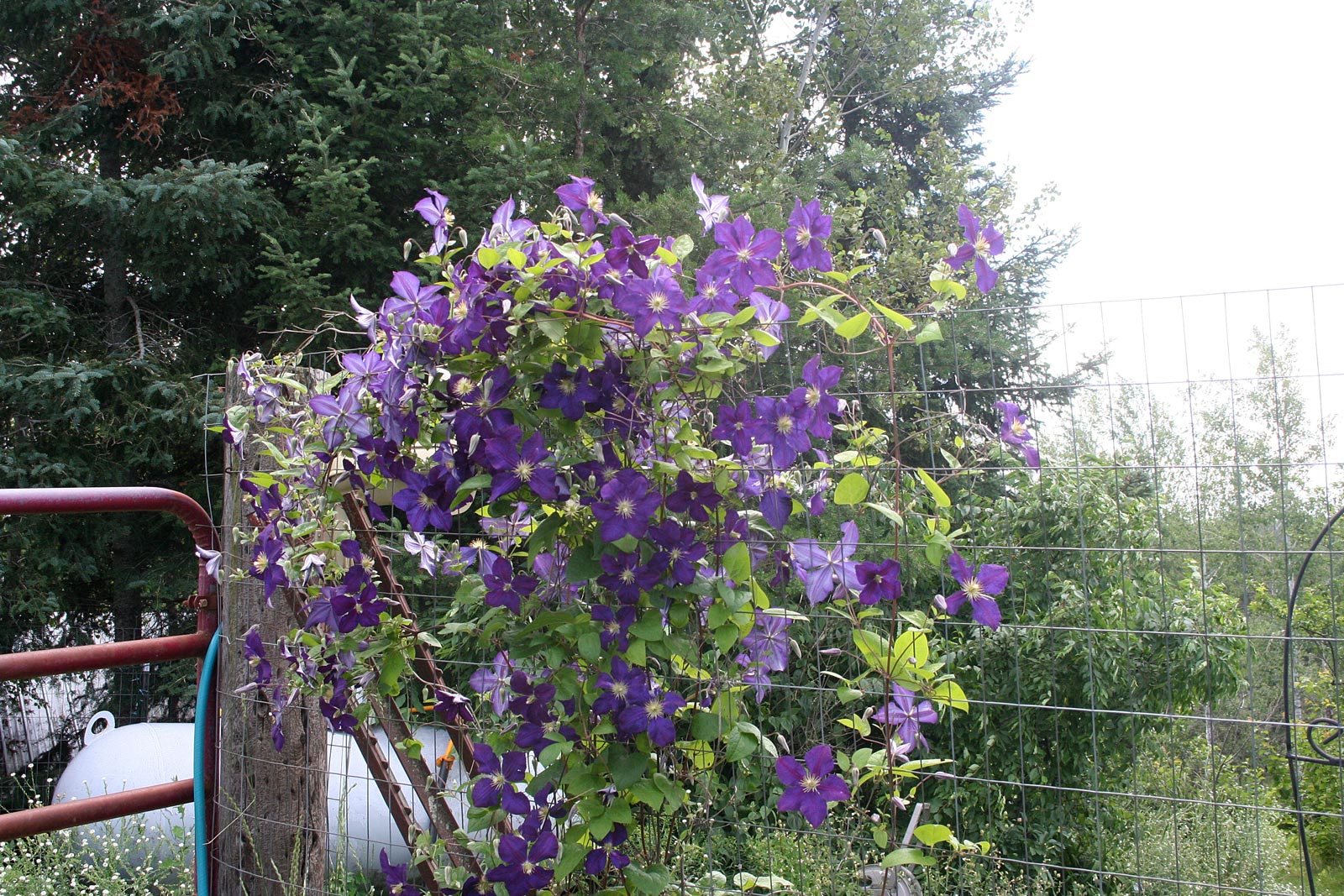 Oh, just a quick note: Sam Duffy just e-mailed me to say the load of Growing and Canning Your Own Food has finally arrived from the printer! Just in time for canning season. That's if folks don't can year-around, like I do. I just put the canned pork loin in barbecue sauce away in the pantry. I did open one jar just to taste it. Boy, was that a winner!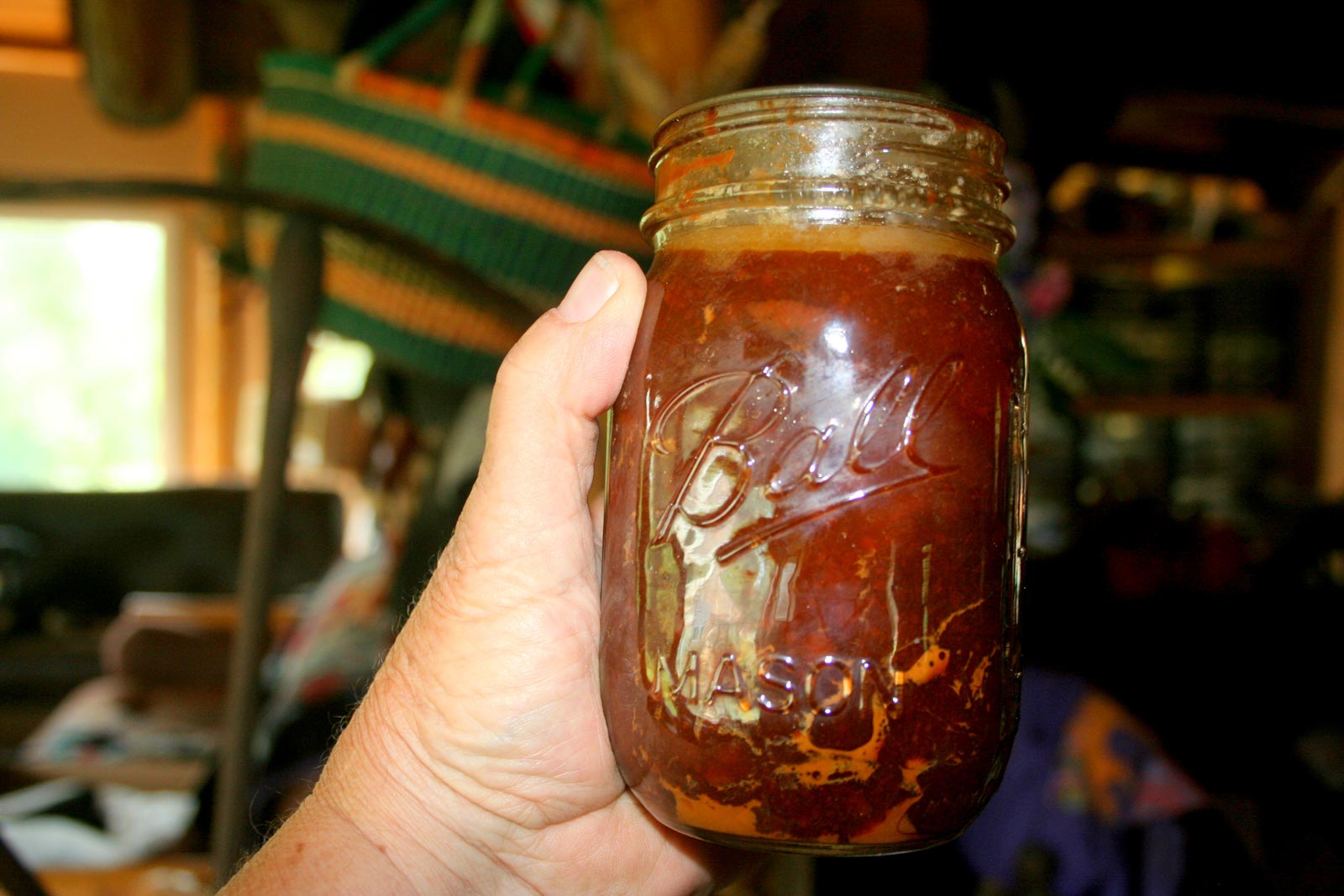 — Jackie