AFTER THE MID-TERMS
The party with the anti-gun platform won the House, but at least the ostensibly pro-gun owner party solidified their control of the Senate.  On the state levels, the prohibitionists barely lost their chance to put an extreme anti-gunner into the Governor's office in Florida, which would have been a major "scalp on their belt."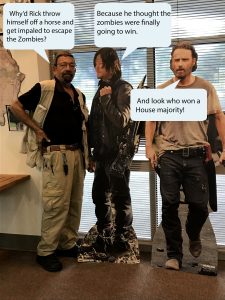 Nancy Pelosi stated that "gun control" would be a number one priority in the House if she and her colleagues won.  They've won there, and we need to be ready to fight some super-strict legislation we can expect to emanate from those quarters, no matter who is named Speaker of the House.  Damn shame the Republicans didn't push for national concealed carry when they had the chance, as the Republican majority had promised to do after the 2016 election.
In Washington state, a Draconian gun ban passed, which I suspect will send residents there rushing to their local gun shop to exercise their last chance to purchase a semi-automatic sporting rifle…a chance that will be foreclosed in just a few weeks. https://libertyparkpress.com/still-called-safety-measure-i-1639-passes-activists-plan-moves/ .
On the justice system front, it's interesting to see what the re-election results were for those who voted against confirming Brett Kavanaugh as a Justice of SCOTUS: https://townhall.com/tipsheet/mattvespa/2018/11/06/butchers-bill-with-mccaskill-gone-red-state-democrats-have-been-virtually-wipe-n2535424 .  Apparently, "guilty until proven innocent" does not play as well with the voting public as some social justice warriors thought it would.
There are "interesting times" to come. Very soon.