A BLAST FROM THE PAST, AS IT WERE
A reader in Georgia was cleaning out his old gun magazines, and was kind enough to send me a photocopy of an article titled "Bowl 'Em Over," about the 1979 Second Chance Combat Shoot, from the November '79 issue of old friend Bob Brown's unique magazine, Soldier of Fortune, now sadly missing from the newsstands like so many other great periodicals including our own  Backwoods Home.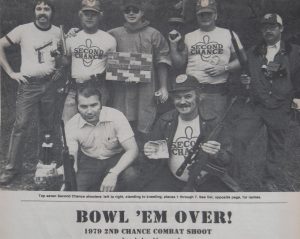 Wow…flashback. Next year it will have been forty years ago. 1979 was the year I took my first expert witness case, and I was still a couple of years out from starting my own school.
The photo shows the top seven shooters, in order of their finish out of 350-plus competitors. In the top row, that's overall champion Bill Wilson on the left, shooting one of his own custom Colt .45 autos years before he started manufacturing his own premium grade handguns at Wilson Combat. Across the back row are Nick Pruitt, Wayne Umberger,  Ray Neal, and me (grateful to have clawed his way to fifth place), and in the front row are Darryll Early and Lowell Wells, each holding the guns we won.
Good to remember there was a time when none of us were gray, and we only had one chin apiece.
Regular blog readers know that last year, the Second Chance Shoot was resurrected as The Pin Shoot, with more shooting games to play on reaction targets than ever.  You can get info at http://www.pinshoot.com/.  The next such event will be held at the same venue, in the great family resort town of Central Lake, Michigan, June 7-14, 2019.
Good news for ya: 1979 was like the third open-entry pin shoot (the very first was invitation only), and it got 350-plus shooters because it had been widely publicized in the gun magazines. In the almost four complete decades since, gun magazines have gone a lot more toward firearms tests and reviews than reportage on shooting events, and word hasn't got out that this wonderful match is "back in business."  This means you'll have fewer competitors to beat for the raft of guns that will be on the prize table.
In his 1979 SOF article, John Howard wrote, "(This match)differs from most other shooting competitions in that it stresses camaraderie, relaxation and just plain fun. Unlike most shoots where one feels like a trainee back in boot camp and where competitors regard one another w ith hostile rivalry, at (this) match top competitors lend each other eapons and ammo and share tips. There is a real sense of friendliness and credit must be given to (founder) Richard Davis, who sets the overall tone and mood of the match by his constant good humor. Davis does a never-ending five-day comic monologue on the P.A. system, which keeps everyone laughing."
I've been to the last two "resurrected pin shoots," and had a ball at each of them.  Hope you can make it to the next one.
If so, I'll see ya there.