A DISPATCH FROM TOAD SUCK
I recently spent a few days in Toad Suck, Arkansas.   Click the link, and see where the place got its name.  Might explain why it sits in a dry county these days.
It's the kind of place limousine liberals make fun of, and not just because of the name. There's a definite Old South feel to it, and lots of folks haven't taken kindly to the recent court decisions allowing same-sex marriage in Arkansas.  We weren't there at the right time for the Toad Suck Daze Festival, darn it, but we noticed that the Concierge Guide to Faulkner County lists Little Caesar's Pizza among cuisine options, and several thrift shops among the shopping opportunities.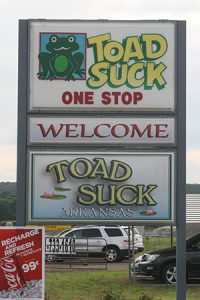 Elitists would have a ball mocking this place.
But the elitists would ignore some other things, no doubt.  A quick survey of house of worship architecture, for example, shows more in the way of the eclectic and innovative, and less of the vaulting cathedrals America's rich used to tour Europe to see.  And elitists would miss the way black and white and rich and poor pitched in together for tornado relief efforts after the storms that devastated this area.  A visitor gets a strong sense of…community. A place where neighbor helps neighbor, and where a dark-skinned stranger with a Yankee accent is treated as cordially as a good ol' home town boy.
And a place where people can attend the Arkansas Shakespeare Theater, and the Conway Symphony Orchestra.
Those who piously preach diversity often overlook the fact that places like Faulkner County are part and parcel of that diversity.
I love this country…