On the morning of July 20, the ranks of the shooter folk was depleted by one fine man. http://www.pharostribune.com/obituaries/x1927879820/George-L-Voltz .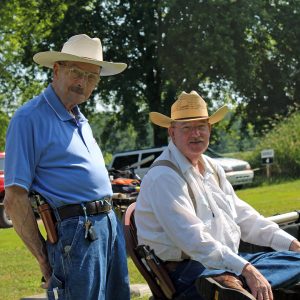 I knew George Voltz for about three decades, teaching with him annually most years. He had served his country in Korea and Vietnam.  He had raised a fine family, though I only got to know two of his sons, Wade and George, Jr. For many years, George owned a gun shop in Logansport, Indiana.  I bought my younger daughter's first firearm, a Smith & Wesson .22 Airweight Kit Gun, from him there.
George devoted his last several decades to sharing his encyclopedic knowledge of firearms and his passion for their safe and competent use.  His wisdom can be found on many spots on the Internet gun forums such as stoppingpower.net, where he normally posted under his initials, GLV.
In person, George was patient, kind, friendly, and unflappable.  He had a dry sense of humor, an uncommonly large supply of common sense, and was one hell of a shot.
I had the good fortune to spend some time with him while teaching in Indiana this past June. Though wracked by cancer and the side effects of radiation therapy, this octogenarian still stood tall, his signature .45 at his hip.  He had, at 83, recently competed in a three-gun match…not as fast as in days of old, but showing the determination that characterized his entire life.
George passed at his son's residence, with hospice care, and only after his death did I learn that George himself had been a volunteer hospice worker.  It was characteristic of the caring and compassion that the man exuded.  A born instructor to the end, he taught us all how to die with dignity.
In this case, it's not a cliché to say…We Are Diminished.