Thanks to host Tom Givens, I recently spent several rapt hours listening to Ed Mireles, the hero of the notorious FBI shootout in Miami, tell us his perspectives and learning points from that terrible day in April of 1986.
It began as a rolling stakeout for a pair of as yet unidentified, heavily-armed robbers who the agents knew had already committed murder.  It ended in five minutes of gunfire with what Ed estimates as 150 rounds exchanged.  At the climax, Ed was severely wounded, hemorrhaging from a head wound that had cut a temporal artery, and his shattered left arm hanging useless from a .223 rifle hit.  Seeing four brother agents down – two dead, two gravely wounded – and the killers now in an FBI car about to back over two or three of those agents and escape, Mireles dropped the Remington 870 12-gauge he had emptied at the murderers one-handed and staggered toward them, carefully aiming and firing his service revolver as he went.
The gunfight that led to sweeping changes and advances in high-tech police armament and ammunition ended when Ed scored five K-zone hits out of six .38 Special rounds he fired one-handed from his Smith & Wesson 686.
Ed's wife Elizabeth, also an agent in the FBI's Miami office at the time, was at the seminar. She wrote one of the most compelling chapters in Ed's recent book on the gunfight.  She talks about what it was like finding that the man she loved had just gone through that and had been almost killed.  Law dog or armed citizen, we have to remember that one of the things we're fighting for is coming home to the people we love who count on us to be there.
Ed's book is titled "FBI Miami Firefight" and is available from https://edmireles.com/.
My reviews of Ed's book can be found at American Handgunner magazine, here.
And here.
His story is a compelling and inspiring one that should be studied, in my opinion, not just by any law enforcement officer but any law-abiding armed citizen who keeps or carries a gun for self-defense.  Ed is autographing the books upon request, and turning them around so fast I'm sure you'll get your gift book in time for Christmas if you order it now.  Life-saving inspiration, for less than the price of a box of pistol ammo.
Ed Mireles demonstrates the stance from which he fired the final shots of the historic gunfight.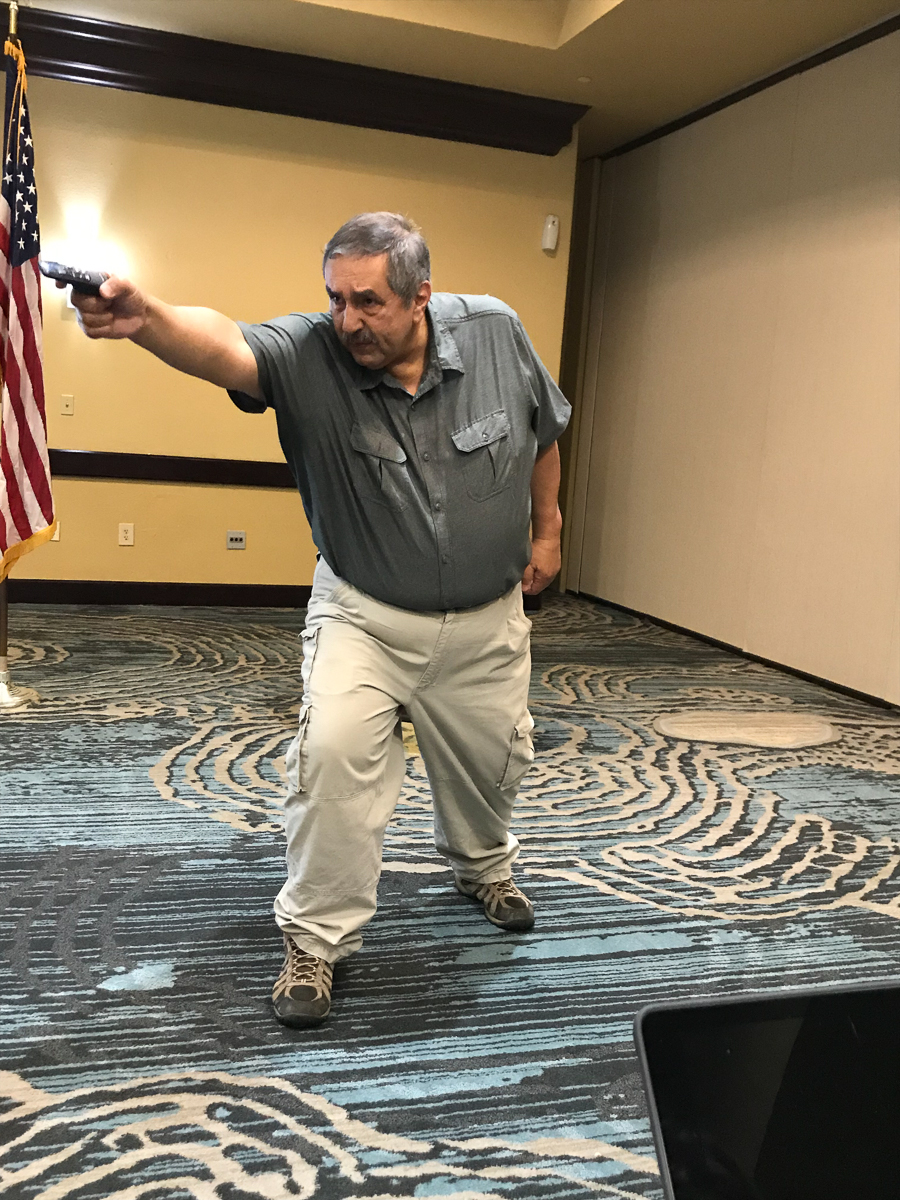 Mireles shows where a .223 round hit him in the arm early in the firefight.
It was a privilege to introduce some of the MAG staff to the legendary hero lawman and his wife. From left: Gail Pepin, Bob Zenoni, Liz Mireles, Ed Mireles, Mas, David Maglio, Steve Denney.