To my mind, "must-read" is a greatly over-used term in book reviewing, so I use it as sparingly as I can.
When the first edition of "Deadly Force Encounters" came out, I considered it a must-read. The Portland (Oregon) Police Bureau has produced many fine alumni. Two of them are Dr. Alexis Artwohl, who was their police psychologist, and Loren Christensen, a legendary street cop who spent much of his career in the worst, toughest part of town. Their combined insights were what made the book great. Alexis' most important contribution was her insight into the perceptions and the emotional aftermaths of officers she debriefed and treated after they were forced to shoot people in the line of duty, and occasionally got shot themselves.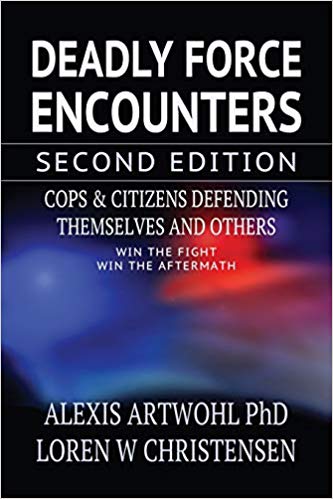 I've corresponded with Loren though we've never met face to face. Alexis and I have taken one another's classes and served on some of the same boards and professional discussion panels. I can tell you they are both The Real Deal, and yes, those capital letters are warranted.
Last year they brought out their long-awaited updated version: "Deadly Force Encounters, Second Edition: Cops & Citizens Defending Themselves and Others."
And it's even better than the first one, in no small part because this edition embraces the armed citizen as well as the law enforcement officer. I've always considered the two to be natural allies, despite the forces on both ends of the political spectrum which have so long tried to set them against each other…something I see occasionally happening here in the commentary section.
If you read this blog, I think I can assume you are an armed citizen (or a past or present peace officer). It would be very much worth your time to have this book on hand to share with friends who aren't. Alexis is quite possibly the most respected police psychologist in the nation, and Loren is one of the most highly respected practical martial arts and police defensive tactics instructors. People need to hear from them.
More "Must-Read" than ever, and available from Amazon.