I recently read "I Am, I Am, I Am" by Maggie O'Farrell.  What caught my eye was the subtitle, "Seventeen Brushes With Death."  It's a straight autobiography by a strong novelist born in Ireland in 1972, who grew up in Scotland and Wales.  Being a quarter Scottish and a quarter Irish myself on my mother's side, and having spent pleasant time in Scotland and Wales, I wanted to relate with her.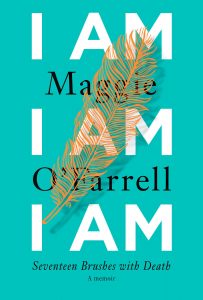 Her writing style can keep you captivated, despite the occasional intrusive roar of a Thesaurus Rex: "The water is black: an absolute dark, this, an ur-dark, aphotic, without a glimmer of light." The title, she explains, comes from the doomed Sylvia Plath in "The Bell Jar": "I took a deep breath and listened to the old brag of my heart. I am, I am, I am."
This is much cooler than my own feelings after near-death experiences, which tended more toward "(Expletive deleted)! I'm still alive!" Lub-dup, lub-dup, lub-dup.
Ms. O'Farrell's experiences are compellingly recalled.  What I look for in such things is what went through the person's mind when it happened, and what lessons they learned that they could share with others.  It's the theme of the Ayoob Files column I've written for thirty years for American Handgunner magazine.  (https://americanhandgunner.com/category/the-ayoob-files/ ). I would give her an "A" for the first: she is skilled at the writer's craft, and makes you feel as if you're going through each ordeal with her.  For the second, though, I'd have to give it a grade of "incomplete."
Many of her travails – illness, troubled pregnancies with much-wanted babies, miscarriages – simply could not have been avoided.  When she's on an airliner that falls from the skies but is barely recovered by a skillful pilot, she is banged up some by the violent turbulence, but doesn't seem to mention the importance of her having had her seat belt on no matter what the seat belt light said – the likely reason that less careful passengers were injured far worse than she.
Given what I do for a living, what struck me most were her two experiences with violent criminals.  The creepy stranger on the walking path who put a camera strap around her neck and she was lucky enough  damn lucky enough to talk her way out of it, discovering later that he was the prime suspect in the strangulation murder of another young woman in the area. The mugger in a third world country who put a blade to her throat.  She blows off the self-defense class she had taken earlier – and, she admits, had not taken seriously – and never explores how situational awareness and self-defense knowledge might have served her better than blind luck. She makes it clear that she is unrepentantly proud of being a risk-taker since childhood, having nearly drowned more than once, and one of those times while holding her toddler.  It is left to the reader to think, "Lady, what was going through your mind?!?"
Yes, I realize she's a child of the UK in modern times, and I know what you're thinking: the Spitfire pilots who rose against the Luftwaffe and the longbowmen of Agincourt must roll in their graves at such mindset.
"I Am, I Am, I Am" is a riveting read.  But the absence of learning from some of these near-death experiences makes me sad, sad, sad.