I've had the pleasure and privilege of writing for American Handgunner magazine since its inception. They have both current content and classic back issues online at www.americanhandgunner.com.
In this one from thirty years ago, I noticed that gunleather authority Bob Arganbright had a column on the then-new LFI Concealment Rig.  I had designed it with Ted Blocker, the fast draw champion and master holster-maker.
Produced in both thumb-break safety strap and open top format, it was named after the school I then ran, Lethal Force Institute.  Ted had been looking for something to allow easy concealment and fast access with a full size service pistol or revolver.  He made this one as a system of Velcro-lined leather gun belt, with mating Velcro tabs on holster and magazine pouch. This allows an extremely wide variation of height and angle of both, which lets the wearer get placement exactly right for comfort, concealment, and speed of draw with their particular body shape, range of movement, and wardrobe.
Because then and now I sometimes had to wear suits, whose pants ride at the waist, but preferred jeans or cargo pants where the beltline was at hip level, this allowed the holstered gun to always be in the exact same spot and angle.  I still like that feature.
At one time, Ted told me that the LFI Concealment Rig was his most popular product. It's still the second inside the waistband product listed on the company's website.  I've taught gun retention classes with them many times: the combination of belt tension and Velcro keeps everything in place.  Ironically, I was wearing one with the new Beretta 92 Elite LTT from Langdon Tactical Technologies,  which I'm currently testing for American Handgunner, when I spotted this old blast from the past issue.  Coincidence upon coincidence.
It's good to see that it has stood the test of time.
Design of LFI jrig allows concealing garment to ride all the way up to top edge of belt without revealing holster.  Holster can be adjusted for height and angle. Pistol here is Beretta 92 Elite LTT designed by Ernest Langdon at Langdon Tactical Technologies.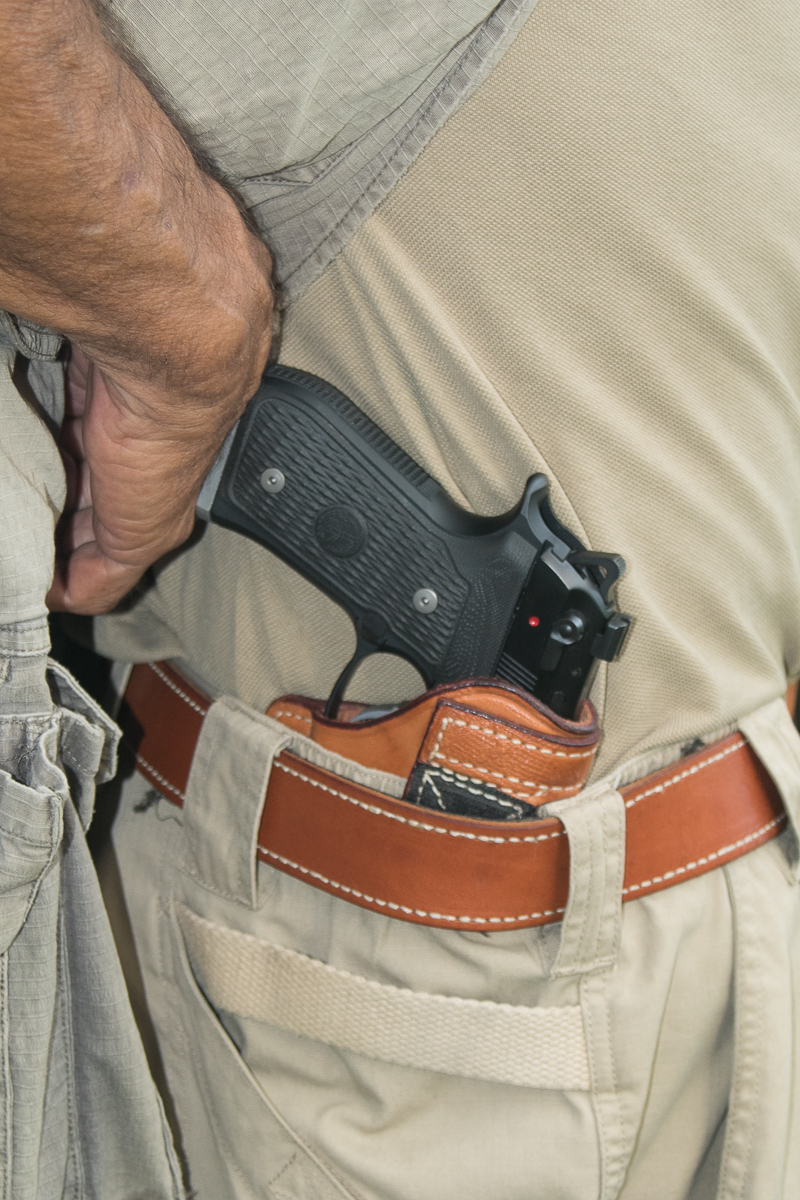 Velcro tab mates with Velcro lined belt.  Thanks to holster making genius Ted Blocker.