Not too long ago, while in the Omaha area to teach a course in responsible armed self-defense, I found myself in a Cabela's which had graciously furnished a conference room for the classroom portion of the program. While I was there they had a "door-buster" sale that included $99.99 Mosin-Nagant 7.62mm Russian military surplus rifles. They had hundreds of 'em, and sold over a hundred in the first fifty minutes, according to one of the Cabela's staff guys. Damn decent condition, too…helluva deal at today's prices. They sent enough Mosins out the door that weekend to defend the gates of Stalingrad.
While we were there, the cute little redhead I call The Evil Princess spotted an Internet ad from the very same Cabela's for a product named The Dead Sled. Turns out to be something called generically a "game cart." It's basically a "dolly," only set up to transport the carcass of a deer that has been transformed into venison. I was told it was a discontinued item in Cabela's "Bargain Cave." Given the name, I can see why it might have been discontinued.
Who knew? All these years, we confident deer hunters simply brought some rope into the woods with us. You shoot the deer. You dress it out. You wrap the rope around the deer, and drag it out behind you.
Or you drape the deer over your shoulders like Dan'l Boone and those guys used to, and hope no one sees the antlers and shoots at them. Or if there are two of you, you gut the deer, tie its hooves together, cut a long piece of wood out of the forest and run it between front and back legs, and hang the fresh food over your shoulders between you as you bring it home from the woods.
But, you know, I do like this new paradigm. I'm not sure about wheeling a cart through the woods with me during hunting season (though at my age, I could probably use it as a walker). Cabela's also has a $20 thang called a Sleigh'r™, which is kind of like a drag-blanket for you to haul the quarry out of the woods and back to the car or truck.
Until we find some way to convince Bambi to walk into our freezer so we can shoot him there, this new "game cart" technology DOES seem to have potential. Only thing is, I saw the Evil Princess looking at the Dead Sled, looking at me…looking at the Dead Sled, looking at me…
And I could tell that what was going through her mind was, "He IS kind of an 'old buck'…"
Anybody know where I can find a Fled Sled, to get me to someplace safe?
Somber expression reflects the realization that "deer cart" is about the right size for…oneself.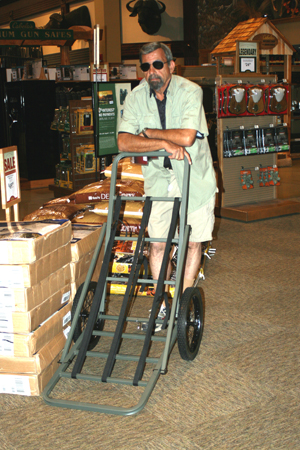 Cabela's on-site classroom graciously hosted this class.