After Action Report: Contextual Handgun/The Armed Parent/Guardian
The Evil Princess and I have known Melody Lauer and John Johnston for some years, and know them to be masterful instructors as well as champion defensive handgun shooters. We have been wanting to take their Armed Parent class because people we know and trust have given it such great reviews, but our schedules have not yet intersected to make that possible.
We were, however, able to get my stepdaughter into one of their classes recently.  Here, as a guest blog, is her after-action report on the class:
Last weekend I attended the Armed Parent class taught by Melody Lauer and John Johnston. This seemed like a class perfectly suited to me. You see, I'm a mom. I have a grown child who has bounced back into my home with a sweet bouncing baby boy and a younger child who is in the third grade. I am often responsible for one or more of these younglings. Since I prefer to go out into the world armed it would only be logical to have some knowledge on how to do that safely. I can attend lots of uber cool, super tactical, ninjas from the rafters classes but they just don't really relate to my lifestyle. I am not going into demilitarized zones or signing up for the next edition of The Purge. I am going to the grocery store, tutoring, cub scouts, MMA, insert any typical carting the kids around activity. The class started off with a classroom session. This lays the foundation of the principles for the class. Shit happens and sometimes it happens when your kids are around. The classroom portion was very interactive and well thought out. They define how the context of having your loved ones around during a potentially violent encounter may change your reaction. This allows you to build a foundation of how you should react when they are involved in the fight. There is a multimedia aspect that while it may be challenging to watch for some people really fosters conversation about how situations change when children (of any age) are involved. They also take the time to discuss legal issues, mindset, responses, and what to do if you are involved in an incident. All within the framework of how they change when your family is involved with the incident.
Then we hit the range. The first day we worked on concealed pistol skills. I know many of you might think this portion may be too basic for you. I'd say you are wrong. If time dedicated to working on the basic skills of accessing, drawing and delivering quality hits is too basic, you should find one of the classes I mentioned above. Here is one place where I will give this class major props. This is not a class that says you need a cover garment, and everyone shows up in a vest with many pockets. This is a come as you are, wear what you normally wear, just be sure it fits a few requirements. (All of which I think the owner of this Blog would agree are good ideas anyway. Like a quality belt mounted, open mouthed holster for your firearm.) What does this look like? Well, for me it meant jeans, light weight shirt with a nice loose hem, jean jacket with the sleeves rolled up, gym shoes, belt and AIWB holster. The ability to practice in my day to day clothing and not be "dressed" for going to the range made this portion of the class more valuable to me.
Day two started in the classroom. Melody brought out her anatomical model named Ruben. She explained what happens physiologically when a person is shot. She removed his lungs, she removed his heart, she opened his brain all while engaging in a very interactive lecture about how targets are not two-dimensional pieces of paper with bad guys and zombies printed on them. For many Ruben is the first time they really "see" how things are actually positioned in the body. I have spent the last 13 years in a level one trauma center as a nurse. I have treated many GSW's and I can tell you her understanding of the process the body goes through is spot on.
Day two range time began with a ballistics demonstration. How well does that defensive ammo you are carrying work? What happens to the bullet once it leaves the chamber? What does 18 inches of penetration look like? (There may have been a reference to the adult entertainment industry somewhere.) How effective is placing your child behind you to shield them during a violent encounter? These are just a few of the questions answered during this activity. Again, this experience is interactive learning that really fosters a great amount of understanding.
Once the demonstrations were done we moved into a block of hands on training. What exactly do you do if you have a child in your arms? What if you are holding hands with a whining toddler who has to go potty while you are involved in a bad situation? What if you and your "book" club are out discussing the latest bestseller and a, um…bar fight breaks out? How are you going to manage them and be able to access your hand gun and deliver quality hits? Melody and John demonstrate and teach you techniques for managing anyone including ladies and gentlemen children of all ages. Once the techniques are down they move you to working on the same techniques during live fire. This all goes right back to how the context of firing a pistol while dealing with another person may change your performance.
Being a nurse, evidence-based practice has been beaten into my head. It is exciting to see how Melody and John have taken evidence and built a class supported by the research and precedent and made it accessible to everyone. Two of my favorite take a ways are:
They absolutely did not tell you there is only one right way to do this. They taught you techniques. John actually said, "make the tasks of the encounter like changing the batteries in the remote." Then you are free to be concerned about the priorities.
Exercise emotional control. While this is a great rule for armed citizens, it applies to everyone and is a great skill to teach our children.
This class may be titled The Armed Parent/Guardian; however, it's valuable instruction for all armed citizens who find themselves in a bad situation with any person they even like a little bit.
Sonja McCarthy
Melody Lauer coaching Sonja McCarthy through a drill.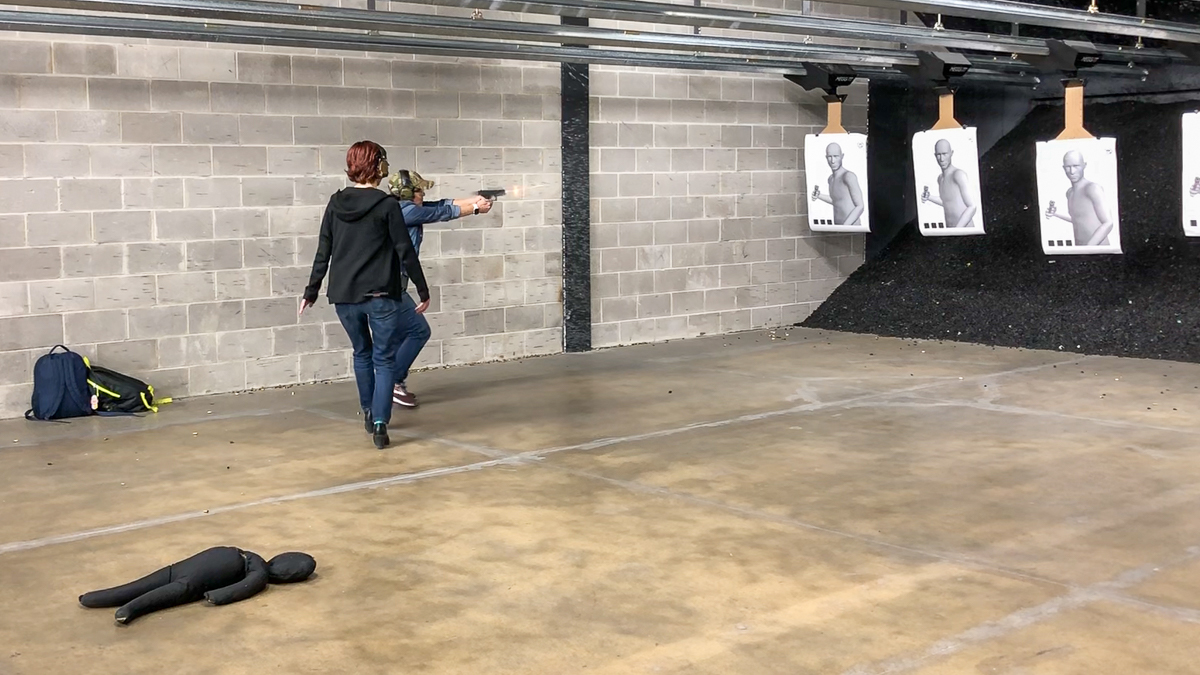 John Johnston assessing a shooting drill.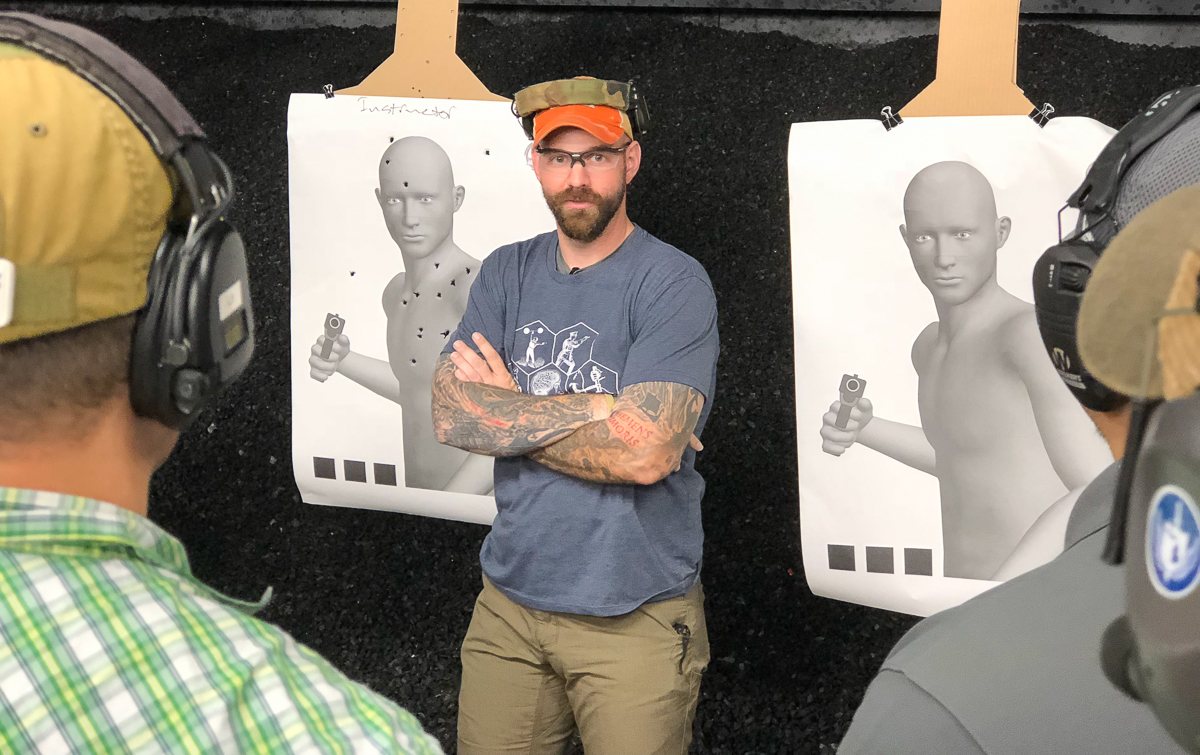 Melody Lauer explaining one of the drills.