In a Barnes and Noble bookstore in May, looking for something to read when it was my lovely bride's turn to drive as we went between training classes, the impending Memorial Day drew me to the history section. One of the books I bought that day was "The Rifle," reviewed in the last blog entry before this one. The other was "Against All Odds" by Alex Kershaw.
"Against All Odds" is the riveting account of four men in a single unit which accumulated more Medals of Honor than any other in that gigantic conflict. The most famous of the four was Audie Murphy.
The legendary Murphy was a consummate warrior. His preferred weapon was the semiautomatic .30 caliber M-1 Carbine, which held a fifteen round magazine that would later be doubled in capacity. His skill with it and with other weapons saved his life many times, and saved countless more lives among his comrades.
Murphy had grown up shooting since he was a little kid, and was already a superb marksman and woodsman before he joined up. There is a lesson there.
If Murphy was the most famous infantryman of World War II, he shared a lot with his predecessor Alvin York, of whom the same could be said in World War I. York had been the man to beat in the "turkey shoot" rifle matches in the hills where he grew up, and fed his family with game shot in the woods. Similar backgrounds marked USMC Gunnery Sergeant Carolos Hathcock in the Vietnam war, and Chris Kyle in the most recent conflict.
If we are going to send our young people overseas to fight with guns, they'll be a helluva lot better at it if they got a running start in riflery beforehand.
When I was interviewed by British media in the wake of the Uvalde atrocity and asked to defend the concept of an 18 year old being allowed to have a military-looking rifle, the clearly anti-gun interviewer posited that in the 21st century there was no need for a Second Amendment, let alone such guns and skills. I pointed them toward the Ukraine, whose government in recent weeks desperately issued fully automatic AKs to volunteer citizens who didn't yet know how to use rifles, and reminded the interviewer that there were still living people in both our countries who remembered Pearl Harbor and the Blitz. You know…when England desperately reached out to American citizens to send rifles, shotguns, and pistols to civilians dragooned into the local civil guard when they feared a land invasion of their country by Nazi Germany.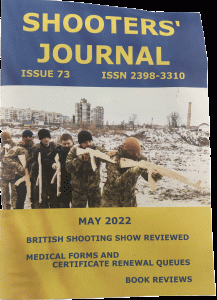 The following photo comes from "Shooters' Journal," published by the Shooters' Rights Association of Great Britain. It gives you an idea what it looks like when citizens have to defend their country from heavily armed invaders. And, yes, those are wooden replicas of AKs those Ukranians are training with.