In these times of inflation, we bemoan rising costs of everything, including ammunition.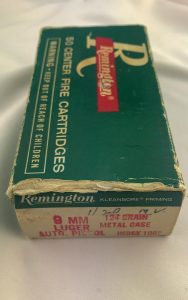 I offer you two artifacts from four decades ago.
If you shop carefully and order on the Internet in places where it is legal, you can get the most popular centerfire handgun practice ammo of our time, 9mm Luger full metal jacket, for as little as fifteen bucks a box delivered.
Behold those artifacts I just mentioned. One is from the 1980 Gun Digest listing retail price of a 50-round box of 9mm FMJ at fourteen or fifteen dollars. The other blast from the past a box of Remington 115 grain FMJ from roughly that period that I was recently given by a friend.
There ain't a whole lot of things you can buy today that cost the same as they did in the 1980s. And fifteen bucks ain't got nearly the buying power it had back then.
You can order by the box or the case from a number of vendors and have it drop-shipped to your giftee. Two that I've had good luck with are TargetSports and SG Ammo. I know people who've gotten great buys at Lucky Gunner, too. Google will get you to all of them.
If your state doesn't allow ammo to be ordered/delivered from out of state, a gift certificate from a local gun retailer should do nicely.