I spent most of last week at a conclave of police trainers at the High Liability Instructor seminar at the Pat Thomas police training academy in Tallahassee.  Tonight finds me in Orlando at the annual convention of the International Association of Chiefs of Police (IACP).  Earlier today I spoke on a panel dedicated to the reduction of officer casualties, along with Sgt. Marcus Young (retired from Ukiah, CA PD) and Lt. Adam Kasanof (retired from NYPD), chaired by Dr. Fabrice Czarnecki, one of IACP's top medical consultants.
It pleases me to see chiefs taking an interest in this. There is a public perception that bosses everywhere are faceless automatons who care nothing for their underlings, but the fact is, supervisor is to subordinate as parent is to child in some ways, including responsibility for their welfare. Because so many chiefs started as patrolmen and have DONE the job they now oversee, I get a strong sense from these top cops of a deep commitment to the safety and well-being of their personnel.
I was particularly gratified to see a lot of cross-trained medical personnel in our panel's audience, including a number of SWAT MDs.  These are full-fledged physicians with the latest training in treatment of life-threatening trauma. They roll with the SWAT teams, not just to save the lives of wounded officers but to save the lives of injured victims they rescue from hostage takers, and even the wounded perpetrators once the fight is over.
It's a huge convention: there are several thousand in attendance.  For perspective, I don't think I've ever seen a police trainers' conference hit a thousand attendees. There are some names you'd recognize among that sea of officers, from Bill Bratton, now-retired chief of NYPD and later LAPD, to Gunnery Sergeant Lee Ermey, who was giving autographs at the Glock booth in the vast police equipment expo section.
I met some old friends and some new ones – the sort of networking that such conferences are all about – and expect to meet more this week.  I ain't a chief, but whatever level you're at in the hierarchy, you're in the same business.
There was lots of cool stuff in the Expo hall. Mini-helicopter for patrol, anyone?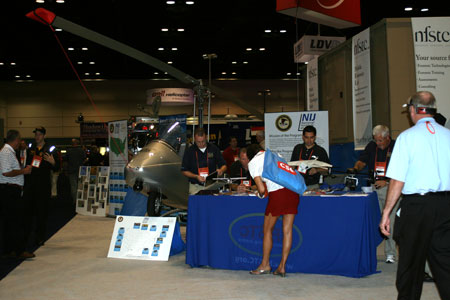 Local mounted patrol greets a visitor.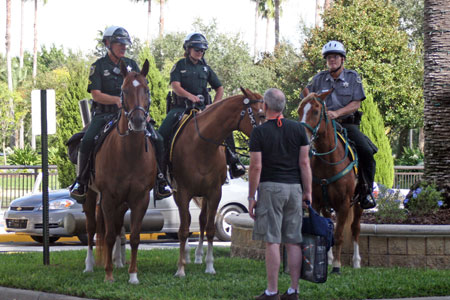 Panel, from left: Mas, Fabrice Czarnecki, Marcus Young, Adam Kasanof.