For gun collectors and students of firearms, the Colt brand holds a special place. Frankly, the same is true for those interested in the history of American manufacturing and marketing. I've often thought that the history of Colt would be an instructive read in Harvard Business Review.
In this space in the past, we've reviewed two books by Gurney Brown, a heavily-credentialed authority on the topic. Now comes his third book on the brand and the products, "Colt's Double Action Revolvers: the Post-War Era."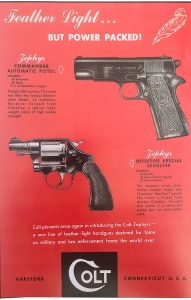 This is where I came in, so to speak. I'm a "baby boomer," born in 1948. As a little boy, I pored over my dad's 1947 Stoeger Gun Bible, and Mr. Brown's new book gives me flashbacks. It contains reprints of Colt catalogs over the long period in question, and while that might look redundant to the casual observer, a shooter in my age bracket sees it sort of as time travel.
It's a coffee table book, to be sure, rich with lavish color photography and commensurately priced ($84.00).  It doesn't have as much historical detail from the engineering side as, say, the work of my late friend Larry Wilson, the famed Colt historian.  That said, though, it does have some nuggets.  Brown's description of the legendary Colt Python and the men who developed it jibes with what I learned at Colt's in the 1970s when those guys were still alive for me to interview for the magnum (no pun intended) opus on that gun that was published in American Handgunner.
I've been a Colt collector and a gun writer for a long time now, but this new book still had some surprises for me. For example, I had not realized that at midpoint in the Twentieth Century when Colt introduced the first lightweight aluminum frame handguns, the Commander semiautomatic and the Cobra revolver, the company had originally called those the Zephyr series. Further research shows that this terminology may have been applied primarily to advertising for foreign sales.
The saying in gun collecting is that the wise person will invest in books about the guns before investing in the guns themselves.  I'll give that advice a thumbs-up, and the same thumbs-up to "Colt's Double Action Revolvers: The Post-War Era."  Amazon will get you there.