Lots of folks have planned what gun(s) they're going to buy this year.  An Internet friend on a closed forum has taken a different approach: his new year's resolution is to spiff up the guns he already has.
I can march to that. Shortly before the end of the last year, I picked up a new Glock 17 with the RTF2 grip frame treatment. RTF stands for Rough Textured Finish, and this one is so aggressive that Glock is only making it now for police holster guns. I found it uncomfortable to wear in an inside the belt holster against bare skin under an un-tucked T-shirt; it's much more abrasive than the standard RTF treatment on the current Generation 4 Glock pistols.  Significant Other likes the way it sits in her hand, though, and she enjoys Glock matches, so this one got some Dawson adjustable sights with bright fiber optic on the front post.  She is partial to light trigger pulls on match guns, and this will be a dedicated tournament-shooting pistol, so we've installed a 3.5-pound connector from Lone Wolf.
My favorite pistol since I was twelve has been the 1911 Colt .45 auto. Back in the Time of the Ancient Ones, as my children would call my prime of life years, I tested a then-new Colt Enhanced Lightweight Commander .45. It grouped about two inches for five shots with just about anything at 25 yards, and I don't recall it jamming. I liked it enough to buy it, and set about making a project gun out of it for carry.  I figured I'd have the best masters do each bit of work. The legendary Dick Heinie installed one of his street-concealable speed-reload magazine chutes. Pete Single, perhaps the best checkering artisan in the business, checkered the frame for traction.
Time went by, and the project slid further and further toward the back burners. I won a Commander-length Bar-Sto barrel and bushing at a match, and will send that to Irv Stone IV for his masterful installation, which should bring it from a two-inch grouper to a "one-inch gun" at 25 yards, without sacrificing reliability.  I'm still trying to decide who I'll ask to do the trigger – it's pretty decent right now, but a plastic trigger is just not esthetically acceptable – and I'm trying to decide between Dave Lauck at D&L Sports and Hilton Yam at 10-8 for the heavy duty fixed night sights. When all that is done, it will go to Robbie Barrkman at Robar for a finish that's impervious to weather and sweat.
When it's done, it'll be my "geezerhood gun" for retirement if I ever get that far. Light to carry, hard hitting, something I'm comfortable with…and, yes, there IS a nostalgia factor at work there.
I don't usually give my guns nicknames, but I may call this one "Freddy the .45." In the "Nightmare on Elm Street" movies, the monstrous Freddie was said to be "the bastard child of a thousand madmen." This pistol will kinda be the bastard child of a thousand madly good gunsmiths.  (Well…maybe not a thousand…but writers are allowed poetic license, aren't we?)
But, enough about my stuff. What's your "grail gun" you intend to buy for 2012, or your project to customize a firearm you already have in your possession?  Share it here!
9mm GLock 17 RTF2 out of the box…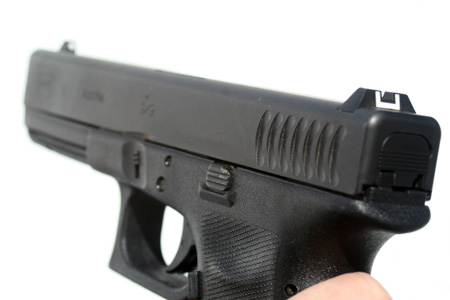 …and same pistol retrofitted with Dawson adjustable rear sight and fiber optic front. Lighter trigger connector and oversize slide lock lever have also been added.