APPARENTLY, CORONAVIRUS AGGRAVATES ANTI-GUN STUPIDITY (AND HYPOCRISY)
Acerbic liberal comedian Bill Maher has admitted that he owns guns for personal protection, yet on his show he recently said of the pandemic-inspired gun-buying surge, "So American … I'll shoot the virus! … We don't do smart stuff in this country." 
Well, Bill, since you've admitted in the past that you are an armed citizen yourself, you know damn well why folks are buying guns…many of those folks being your fellow liberals who are finally awakening to some sense of self-reliance.
In other news Jack Young, mayor of crime-infested Baltimore, calls for gang-bangers to stop shooting each other because hospital beds need to be kept open for virus victims.  Way to go, Mr. Mayor.  Because we all know that sociopathic homicidal gang members are noted for their empathy and altruism.  While you're at it, consider posting Gun Free Zone  Hunting Preserve for Psychopathic Killer signs.  They'll do every bit as much good.
Mayor, meet Maher. Mr. Maher, I know that none of my Glock 19s or Smith & Wesson Model 19s will protect me from COVID-19. But in case you've missed it, the media sources the nation trusts warn us that food supplies may run out, that criminals are being emptied from jails, courts shut down and police spread thinner than ever. The same government officials who tell us we need to protect ourselves with gloves and hand sanitizers and something close to house arrest, are also telling us to have meds and food on hand, though they are somewhere between silent and negative toward protecting ourselves from the criminals they're releasing.
Actually, though, you can shoot COVID-19 with a Glock 19 …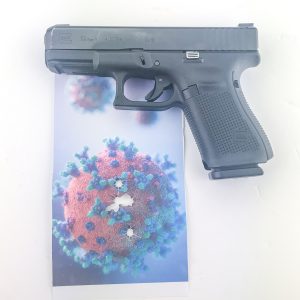 … it won't kill the virus or cure anyone infected with it, but it might just make you feel a little better about the whole matter.