Particularly after the recent murder of an Arizona rancher who had turned in to authorities a quantity of drugs he'd found cached on his property, Arid Zoners have taken to arming themselves with a new level of determination. They are well aware that they may find themselves up against VERY heavily armed people: see the photo below  taken by law enforcement at what was reported to be a Zeta Cartel training camp just south of the border.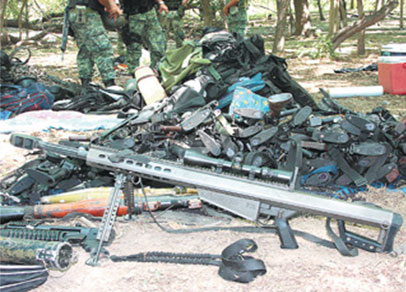 A good friend of mine who is heavily into teaching concealed carry classes in Southern Arizona, and supplemental courses for soldiers out of Fort Huachuca, with whom he is very well connected due to his own long and honorable Army service, tells me there is much interest among the ranchers in learning defensive employment of military style rifles.  Makes sense to me. I've seen a recovered firearms training manual recovered by US law enforcement from cartel members, which indicates that they are attempting to train themselves to a military Special Forces standard. Folks with combat skills like these will be moving fast and taking advantage of hard cover: this makes it important to have a gun in the car that can send bullets punching through auto bodies and heavy, tempered window glass. Multiple, fast-moving targets require lots of ammo, too: twenty-round and larger magazines make sense here.
The US Border Patrol is struggling valiantly to contain the problem, but is short of manpower and budget. THIS VIDEO shows some of the scope of the problem.
During our sojourn on the border, we had an M4 in the car, and also my idea of an ideal "car gun," Springfield Armory's super-handy, super-controllable SOCOM-16 semiautomatic rifle in caliber 7.62mm NATO. Didn't need it, of course, but it provided a sense of being ready for the worst…
Could such hardware ever be necessary on American streets? FBI Director Robert Mueller knows the answer. Read IN ITS ENTIRETY his 2009 speech HERE where he discusses the possibility of an American Mumbai.
FN SCAR 5.56mm with Trijicon ACOG is an excellent self-defense rifle. Here, firearms instructor Dave LaRue kicks brass sideways and lead into the target with one.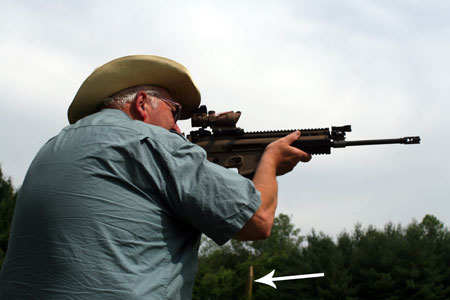 7.62mm NATO (.308 Winchester) is an effective answer to homicidal threats ensconced in motor vehicles.