The Evil Princess and I owe you a confession. Since its inception a dozen years and eleven (COVID-extended, ironically) seasons ago, this AMC series about a zombie apocalypse has kept us tuning in.
Sociologists see it as an allegory to the poor rising up against the rich in a dystopian world, and epidemiologists have used it to explain how pandemics work. Inventive writers and (for the most part) good actors kept us watching it.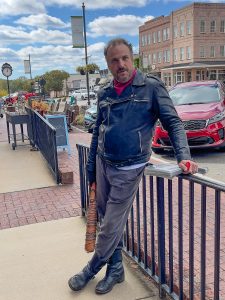 If you wanted comedy instead, you could have watched the EP and me as we watched the show. When I wasn't head-shooting zombies with my SIRT laser pistol, I'd be yelling at the screen, "Stop with the full auto fire already! You need one shot at a time to hit the zombie brains, and live ammunition would have become irreplaceable precious metal in that situation! OMG, now they have a THIRD character who's lost his right eye but still shoots long guns from his right shoulder. And that one doesn't even have sights on his Marlin lever action, and that other one doesn't have sights on her M4! And those people aren't swinging those knives nearly hard enough to punch through skulls and into zombie brains! And where the hell are they finding gasoline a decade after society collapsed?"
To which my lovely bride would reply with a sigh that could overload the Richter Scale of the sighs-mograph, "Yet you accept the animated corpses…"
We found ourselves bonding with the characters. Asked who she'd hook up with, the EP said, "Maybe Rick…but no, he left. Maybe Daryl, I've always gone for the bad boys. Or maybe Ezekiel, he had a freaking pet tiger…eh, I guess Daryl."
It was harder for me. Michonne captured my foolish heart with her katana-wielding, and I could have taught her how to hold her Beretta properly…Maggie was hot, and I could have taught her not to take people at gunpoint with the hammer down on her single-action 1911…but they were both way too young for me I was way too old for them. No, definitely silver-haired Carol, the mature cookie-baking woman who killed bad guys with aplomb and came closer to my dating range (if I was still allowed to have a dating range). After all, I've already married a cute and deadly cookie-baking grandma in real life…
The show is closing the end of this month. Gail and I visited the set in Senoia, Georgia recently and took the tour with a cool dude who has been on the show and dressed like the Negan character. Over the years, I've joked with people that I should have a one-question test for people who want to take my classes. The question would have been, "'The Walking Dead' is (A) a television fantasy, (B) a documentary, or (C) a training film." Anyone who answered anything but (A) wouldn't be allowed to take my class.
But then I realized that anyone who answered (B) or (C) would need my class more than anyone else…