Old gunnies will remember the great Second Chance bowling pin match, with events for handguns, rifles, and shotguns, that ran from the mid-1970s to 1998.  It's back this week, at its old location in the quaint resort town of Central Lake, Michigan.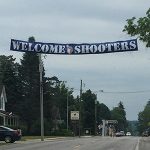 It's good to drive into a town under a banner that sweeps across the street saying, "WELCOME SHOOTERS."
The match was founded by Richard Davis, the inventor of concealable soft body armor, who started the Second Chance company. He long since sold Second Chance and retired, but his son Matt is the CEO of Armor Express, also located in Central Lake.  It's the brand I wear, and the brand that saved guest speaker Brian Murphy, who survived being shot fifteen times during the Sikh Temple massacre in Wisconsin a few years ago.
Lots of old friends here, kind of an "old home day."  More to come as we share the fun with ya.
Wish you were here.