Last Friday I grabbed lunch at Booby's restaurant in Niles, Illinois.  Niles is right next to Park Ridge, where Hillary Rodham Clinton grew up, and it has been said that Booby's was one of her favorite hangouts in her younger days.  No argument here: food and service were excellent.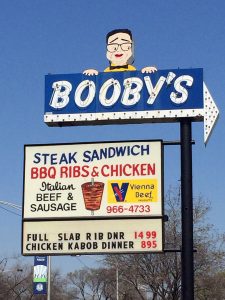 Booby's is a place for ordinary neighborhood folks to eat.  As Mrs. Clinton, who for decades has surrounded herself with exemplars of wealth and power, attempts to reinvent herself as a champion of the middle class, her contact with mainstream Americans doesn't seem to go a whole lot farther than having eaten at Booby's.
Mrs. Clinton, quite possibly the most anti-gun Presidential candidate in memory, is traveling the country in a van she calls "Scooby," whimsically named after the Scooby-doo cartoon.  I for one see more irony than whimsy.  As I understood it, most every episode of Scooby-doo involved someone pretending to be magical, fantastic, and marvelous, only to be revealed as a villainous fraud portraying themselves for their own benefit to be something they were not.
What would Scooby say? Probably, "Ruh-ro."
As Oscar Wilde once said, "Life imitates Art more than Art imitates Life."