So there I was, teaching a class of 42 shooters with almost 20 training staff.  I can about guarantee you that in a class like that, you're going to find someone whose holster is simply unsafe, and a few or more than a few whose holsters are suboptimal.  Ya can't carry a giant box of loaner holsters for every possible handgun, particularly when you're flying, like I was since the class was in Northern California.
Enter the Precision Holster Company.  The guys who run it are graduates who were kind enough to come and assist as range safety officers.  And, kinder still, they set up a small tent on the range to display and sell their wares.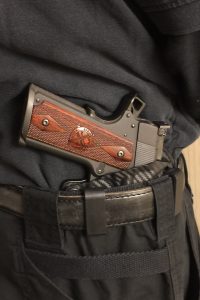 Talk about service and convenience.
I taught the class with one of their inside the waistband holsters for my .45.  It fit perfectly. These
guys do good work, whether your carry preference is appendix, cross draw, or strong side hip.  You can order the degree of tilt you prefer, with or without sweat guard, left hand or right, etc.
Good people, good work, good product.  Thanks, Precision Holster!
The California class was a good one!